There is a lot of promise when it comes to infrastructure planning, especially in times of crisis.
COVID-19 has had a severe economic impact, and many governments have been quick to announce large infrastructure stimulus packages along with legal reforms to speed up implementation.
The promise was that these emergency infrastructure investments would "recover better" by responding to the immediate economic challenges of COVID-19 while also spurring social transformation.
The possibilities sparked a lot of hope. There was no shortage of public opinion material calling for things like a "green recovery" or the reduction of geographic disparities in jobs and well-being that the pandemic has helped bring to light.
Transformational Opportunities
Our research has explored the nature and politics of these vaunted transformational promises in Australia, New Zealand and the United Kingdom.
Each country has had its own high-profile crises, as well as existing social, economic, spatial, environmental and intergenerational problems.
Although the increase in infrastructure spending was touted as a one-stop solution, the tight deadlines meant that little attention was paid to the details.
---
Read more: Infrastructure spending has always included social engineering


---
The urgency also limited any public debate and scrutiny of proposed designs. Questions about their value, purpose, and which communities will be affected and how have been largely ignored.
Prior to the pandemic, all three countries had similar debates about the "shortage" of infrastructure and the need to reduce "red tape" in planning and public consultation.
Recognizing that infrastructure projects can become toxic and backlash in elections, politicians have also sought to depoliticize aspects of the decision-making process.
Each country has established "independent" infrastructure commissions to develop national strategies and advise on priorities. Perhaps these commissions inevitably confirmed the need to increase infrastructure spending and speed up processes.
As the need for an emergency response came to the fore, these pre-existing arguments for reform were quickly revived when the pandemic struck. Much of the decision-making power has been given to technical experts and politicians.
In New Zealand, an Infrastructure Industry Reference Group has been established to assist in the selection of projects and bidders. Interested parties were given only two weeks to apply.
In the UK, the Speed ​​Project was created and led by the Treasury, again on an urgent basis.
Ordinary Strategies in an Unusual Crisis
After all, the economic impact of the pandemic has been comparable to previous crises, for example in terms of shrinking gross domestic product. On the other hand, the impact on society was unlike any other crisis we have seen.
In retrospect, not enough time has been devoted to understanding how the pandemic is changing our way of life.
Profound changes in how work is done, whether it's working from home, commuting less, or moving away from major urban centers, have had little effect on stimulus plans in the long run.
There has been some progress in more transformational infrastructure investment, but it has been limited by issues of public acceptance. For example, in some areas, initiatives to create low-traffic areas and cycle paths have met with significant resistance from the local population.
---
Read more: Checking Stimulus Spending: 4 Ways Smart Government Can Create Jobs and Cut Emissions


---
Urgency also played a role here.
Short deadlines limited the space for public consultation, high-quality projects, or their positioning within a citywide strategy.
As the UK Local Government Association study found, these schemes required greater stakeholder involvement to help identify and address community issues.
In contrast to this tentative progress, far more progress has been evident in reforms to speed up decision-making on large infrastructure projects, not least by reducing opportunities for public feedback.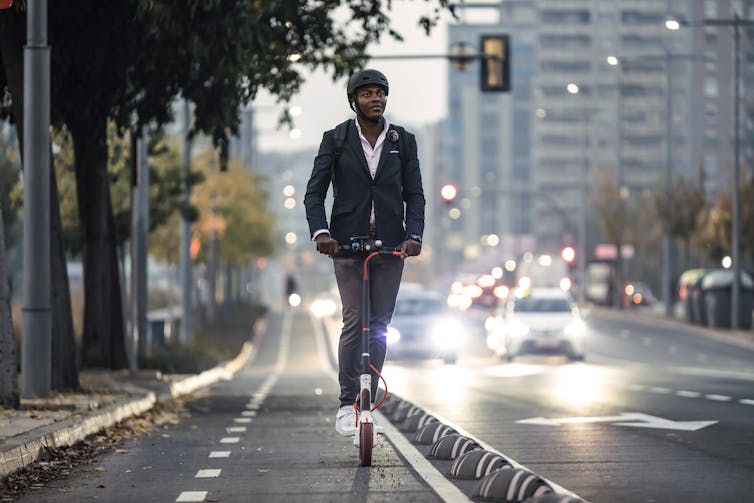 The transition to centralized decision-making under the leadership of experts contributed to the rapid "pipeline" of investments. However, this pipeline has reduced the space for needed policies usually associated with a more transformative future.
Thus, rather than allowing a major rethink of infrastructure priorities, existing reforms, narratives and projects have taken root, some of which have been accelerated.
Promises unfulfilled
Despite good intentions, the promises to restore better than originally promised did not represent a radical break. This failure is partly due to urgent, expert-led processes that were not suited to a more transformative future.
The key message is that if we really want to make a difference in a future crisis, we must hold those who make promises to account.
Accountability can be achieved by resisting the political closure that usually accompanies emergency declarations and by asking the question: "What infrastructure should be built, for whom, where and why?"
This makes us question the normalization of new infrastructure as a solution – almost regardless of the problem – and instead makes us abandon existing assumptions about promoting high growth and productivity, not least where they negatively impact climate change mitigation.
On the way to projects worthy of a shovel
The Australian Grattan Institute, the OECD and others seem to be increasingly recognizing that rapid infrastructure building is not the answer to the complex crises we face.
In addition, the infrastructure we build must be limited in scope and localized, with a focus on creating coherent networks of small infrastructure projects as well as headline-grabbing mega-projects.
---
Read more: Checking Stimulus Spending: 4 Ways Smart Government Can Create Jobs and Cut Emissions


---
This two-pronged approach would better reflect the more local way of life in cities since the early years of the pandemic.
We argue that in order to chart a different path, policy makers will need to spend more time actively identifying "shovel-worthy" alternatives—projects that cultivate more equitable and climate-friendly cities and regions of the future.
"Worthy of a shovel" means working with local communities and integrated infrastructure planning that focuses climate justice and moves away from megaprojects.
The use of local knowledge and open public scrutiny will go a long way in helping policy makers identify the types of infrastructure that can better address existing inequalities and facilitate the social transformation that cities and regions desperately need.