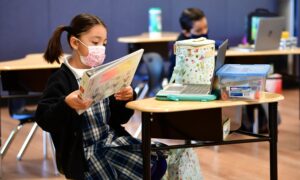 Respiratory syncytial virus (RSV) is affecting children in Colorado more than COVID-19, according to Rocky Mountain Children's Hospital's chief medical officer.
"RSV is highly contagious and very common in the school system as well as in day care centers and at home," Dr. Reginald Washington told FOX31 KDVR-TV on January 12, adding that "COVID is increasing in its prevalence" and affecting children. second place, and adenovirus – third.
RSV is a common respiratory virus that causes cold symptoms in people of all ages. Doctors say the virus is so common that many children will contract it before they are two years old.
In most children, RSV is mild and resolves in a week or two, but in some people who are immunocompromised or have lung or heart disease, the disease can be quite severe.
RSV outbreaks typically occur from autumn to spring, but an increase in RSV cases in the southern parts of the United States prompted the Centers for Disease Control and Prevention (CDC) to issue a health advisory in June 2021.
Other countries have also seen an out-of-season spike in RSV. Public Health England, responsible for improving and protecting the health and well-being of the country, issued a notice in July 2021 urging parents to "look out for symptoms of severe infection in children at risk". various restrictions apply [during the winter of 2020] to reduce the spread of the coronavirus (COVID-19), there were far fewer infections among young people" that "many will not develop immunity."
Doctors in Queensland, Australia noticed a significant increase in RSV cases in children between January and April last year. Summer in Australia began on December 1, 2020 and ended on February 28, 2021. A total of 378 cases of RSV have been reported in the northeastern state in 2021, compared to 88 cases in all of 2019 and 70 cases in 2020.
Dr Damian Roland, Emeritus Professor of Pediatric Emergency Medicine at the University of Leicester, said that regardless of the disease, the focus should be on the child's signs and symptoms, rather than making parents fear the disease.
"From [the] parental point of view [it] doesn't matter if [the] your child has RSV, #COVID19 or [an]another virus. Decision-making should be directed towards their well-being, not their disease." – Roland said on Twitter Jan. 12.
He added: "My comment is that we create fear in parents about certain diseases, not about what their child is like. If your child has a fever but is healthy and drinking, the cause of that fever is irrelevant (but please get tested for COVID in accordance with national policy)."
Dr. Linora Saxinger, an infectious disease expert and associate professor at the University of Alberta, listed the symptoms parents should be aware of and when to take their child to the doctor or call emergency services.
"Listen. Warning signs for CHILDREN with a viral infection: (both RSV, which is usually severe at this time of year and returns after a year off, and COVID19): my colleagues have seen BOTH viruses causing 'croup' — even in older children." ," Saxinger tweeted on January 12.
Listen
? warning signs for CHILDREN with a viral infection:
(And RSV, which is usually heavy at this time of year and is back after a year off, and COVID19):
my colleagues have seen BOTH viruses causing croup, even in older children. Respiratory viruses usually
one/ pic.twitter.com/XTc31Jmaph

— Dr. Linora Saxinger ?? *does not mention DM answers (@AntibioticDoc) January 12, 2022
According to The Lancet Respiratory Medicine, RSV causes "an estimated 33.1 million acute lower respiratory tract infections worldwide and 3.2 million hospitalizations in children under 5 years of age."
The CDC says there is currently no specific treatment for RSV infection, but the World Health Organization (WHO) says a vaccine may be "available in the near future."
"Fortunately, several candidate vaccines are currently in human trials targeting young children, the elderly and pregnant women, and an effective, safe vaccine is likely to be available in the near future," the WHO said.
.