On Saturday, Russia sent a pair of nuclear bombers over Belarusian airspace as part of a four-hour patrol mission, demonstrating the close defense ties between the two allied countries.
"Two long-range Tu-22MZ bombers of the Aerospace Forces have completed patrolling in the airspace of Belarus," the Russian Defense Ministry said in a statement, Russian state news agency TASS reported.
"Long-range aircraft in flight have worked out joint tasks with the Air Force and Air Defense Forces of the Belarusian Armed Forces," it was reported.
Also in the patrols were Su-30 fighters, which were controlled by Russian and Belarusian troops. In September, Moscow based a number of Russian-made super-maneuverable twin-engine aircraft on the territory of Belarus. The plane can fly without refueling for up to 3.5 hours.
Tu-22M3 bombers can carry nuclear missiles, including hypersonic ones, designed to bypass the complex western air defense system. A pair of strategic bombers were escorted by Su-30 aircraft.
This is not the first time Moscow has sent bombers to patrol Belarus. The December 18 patrol was the third such mission since last month.
In mid-November, Russia flew a pair of Tu-22M3s as the European Union considered sanctions against Minsk for what it called an artificially created crisis over illegal immigration. The Kremlin then said that the deployment of these two aircraft was not related to the border crisis and should help in testing the joint air defense system of Belarus.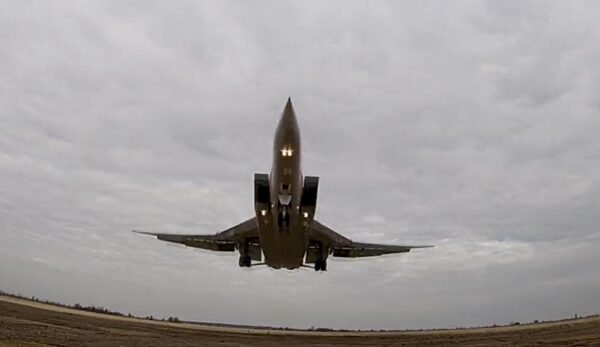 Saturday's patrol flight comes amid Western fears of a buildup of Russian troops near Ukraine, prompting fears of an invasion. Moscow denied the West's accusations, but called on them to provide security guarantees that would rule out NATO expansion into Ukraine and the deployment of the alliance's weapons there.
Some Ukrainian officials have previously expressed concerns that Russia may use the territory of its ally Belarus to attack Ukraine.
Moscow strongly supported Belarus in a tense standoff last month, when thousands of illegal immigrants and refugees, most of them from the Middle East, gathered on the Belarusian side of the border with Poland in hopes of crossing into Western Europe.
The European Union has accused authoritarian Belarusian leader Alexander Lukashenko of encouraging illegal border crossings as a "hybrid attack" in response to EU sanctions against his government for crushing domestic dissent following Lukashenko's controversial re-election in 2020.
Tension on the border with Belarus continues to grow and has been heating up for several months. In Poland, the authorities have already deployed more than 15,000 soldiers to the border.
The Associated Press contributed to this report.
From NTD News
…