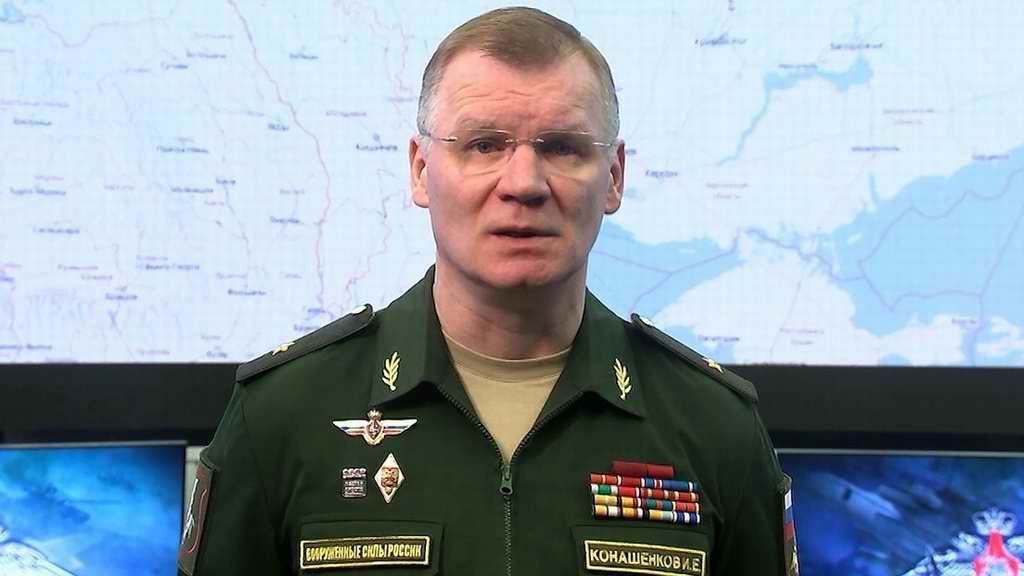 Moscow, November 7 – Defense Ministry spokesman Lieutenant General Igor Konashenkov said that the Russian army repelled attacks by Ukrainian armed forces in different directions of the front line.
The spokesman said in his general report to the press on Sunday that in the Kasny Liman region, the enemy launched an unsuccessful attack with two tactical groups of battalions towards the settlements of Plochanka, Artyomovka and Stelmazovka of the self-proclaimed Lugansk People's Republic.
Konashenkov specified that Russian artillery and aviation strikes killed 250 Ukrainian soldiers and Nationalists and destroyed two tanks, four armored fighting vehicles, one Grad multiple rocket launcher, one self-propelled artillery unit and 12 armored cars.
Similarly, in the self-declared People's Republic of Donetsk, a high-precision attack by Russian aerospace forces eliminated 100 terrorists from Nationalist formations and foreign mercenaries, Konashenkov said.
According to a military spokesman, the latter had about 40 generals from the United States, the United Kingdom and Poland, and Russian aviation also disabled 10 armored fighting vehicles.
The lieutenant general said that on the southern edge of the front line, Russian forces fought two attacks in the Kherson region, killing more than 50 Ukrainian soldiers and destroying eight armored vehicles and 10 light vehicles.
While in the Kupiansk region, an enemy battalion reinforced by a Nationalist formation attempted to attack Moscow positions on a narrow section of the Lugansk front, but was repelled by artillery fire and infantry action.
200 soldiers, eight tanks, nine armored combat vehicles and eight trucks were lost during the fighting with the Armed Forces of Ukraine.
A Defense Ministry spokesman said that after an effective airstrike, an ammunition depot in Donetsk was destroyed, where 120 missiles of the American multiple rocket launcher HIMARS and 250 shells of the Smerch system were stored.
Russia has been conducting a special military operation in Ukraine since February 24, alleging that the people's republics of Donetsk and Lugansk, previously recognized by Moscow as sovereign states, were condemned by Kyiv as genocide. Help was needed to do this. (Text and photo: PL)
---
---


notes
---
Your email address will not be published *