The fact that the first photo of Ryan Gosling as "Ken" from the upcoming "Barbie" movie was released during Pride Month was probably not a coincidence as he resembles a version of the doll that became a gay icon. has gone.
Many people noticed that Gosling's denim vest and bleached blonde hair made him the spitting image of "Earing Magic Cane", a version of Barbie's best male friend, released in 1993.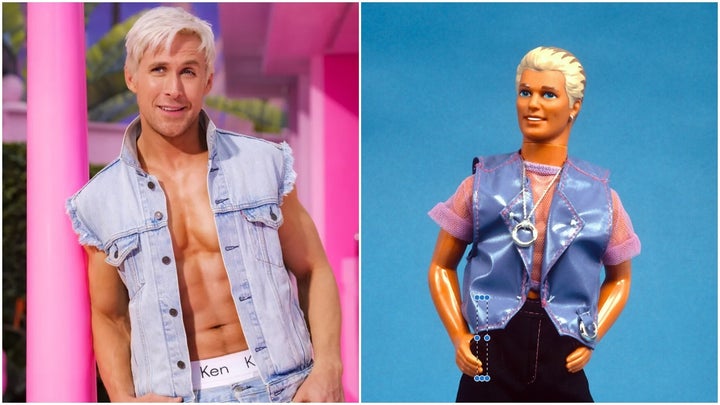 The "Earing Magic Cane" reportedly came at a time when Mattel executives were looking to update Kane's image and surveyed children to see what they liked.
However, the doll clearly became the best-selling version of Kane in Mattel history at the time, thanks to its popularity among gay men.
That's because Earring Magic Kane wore her accessory earrings on the left earlobe, a lavender mesh shirt with a matching pleather vest, and, As noted by Mail magazineA necklace that could possibly double as a "cock ring."
That particular fashion accessory proved particularly challenging for a Mattel PR person, who had to explain it in a way that was acceptable to parents unfamiliar with what was stylish in the gay community at the time.
Lisa McCendall, manager of marketing and communications for Mattel Toys, Chicago Reader urged that his employer was "not in the business of putting cock rings in the hands of little girls."
He added: "It's a necklace. It has charm that he can share with Barbie. Come on, it's a doll made for little girls, something like that would be completely inappropriate."
Although many mothers bought the Earring Magic Cane for their children, it was also selling well in the gay community.
but knowledgeable reported that after the article made a connection to the rooster ring, Mattel recalled the doll.
No one associated with the Barbie movie has explicitly linked Gosling's version to the earring magic cane, but many on Twitter couldn't help but think it was intentional.
fbq('init', '1621685564716533'); fbq('track', "PageView");
var _fbPartnerID = null; if (_fbPartnerID !== null) { fbq('init', _fbPartnerID + ''); fbq('track', "PageView"); }
(function () { 'use strict'; document.addEventListener('DOMContentLoaded', function () { document.body.addEventListener('click', function(event) { fbq('track', "Click"); }); }); })();