Personalized recipes, smart meal planning, and smart home compatibility come together in the announced new service from Samsung, which is based on AI.
Samsung Food will offer immersive culinary experiences with more than 160,000 recipes available and act as a personalized assistant to help users discover new dishes, create customized meal plans, and order ingredients online. The service will also help users control their home appliances, guide them through the cooking process, and allow them to share their favorite recipes via social networks.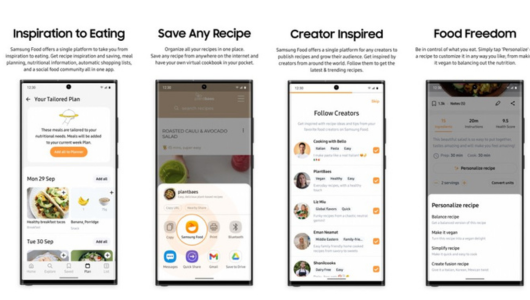 Building on Samsung's wide range of home appliances and food services, Samsung Food uses AI technology to go beyond existing capabilities and deliver a food platform that is truly tailored to the needs and lifestyles of its users. To achieve this, Samsung Food draws on the extensive database of Whisk, the recipe app acquired by Samsung Next in 2019, which leverages advanced "Food AI" technology that suggests meals based on user preferences and the seasonality of the food.
"The food we enjoy and the way we prepare it are central to our daily lives, and we all love to cook and eat together," she said. Chanwoo Park, Executive Vice President and Head of the Service Biz Group of the Digital Home Appliances Business at Samsung Electronics "Samsung Food leverages advanced AI capabilities to deliver a highly personalized, all-in-one food experience that users can control directly from anywhere using their mobile devices."