Riyadh:
Saudi Arabia's Prince and presidential contender Mohammed bin Salman has hit back at US President Joe Biden's reference to Saudi journalist Jamal Khashoggi. US President Biden, who arrived in Saudi Arabia, mentioned the Khashoggi murder and put his hand on the Saudi Prince's aching veins. After this, Mohammed bin Salman also hit back at the world's most powerful man and reminded him of the sexual abuse and horrific physical abuse of prisoners in Abu Ghraib prison in Iraq. American soldiers were found responsible for the inhuman treatment of these prisoners.
On Biden's arrival in Saudi Arabia, a glimpse of the strained relationship between Prince Mohammed bin Salman and the US President was clearly visible. Prince did not go to the airport to welcome Biden, although he has done so with many leaders including Imran Khan. During a meeting with Biden, the Saudi prince denied responsibility for the murder of Jamal Khashoggi at the Saudi consulate in Turkey. To this, Biden said that he did not agree with Mohammed bin Salman based on US intelligence reports. Prince Salman was furious at Biden's mention of Khashoggi, and he retaliated with a scathing attack on the sexual and physical abuse of prisoners by US soldiers at Iraq's Abu Ghraib prison.


Joe Biden Saudi Arabia Visit: A hand of friendship with withered faces… Joe Biden arrived in Saudi Arabia to be welcomed by Prince Salman
Khashoggi murder has been investigated, punished: Saudi Arabia
Mohammed bin Salman also referred to the murder of Palestinian American journalist Shirin Abu Akleh on the west bank. Its accusations were on Israel. Saudi Foreign Minister Prince Faisal bin Farhan has briefed the media about the talks between Mohammed bin Salman and Biden. Farhan said, 'The Crown Prince responded to Biden's comment on Khashoggi and said that we have taken this very seriously which is very unfortunate. We have acted against it as a responsible country. The Saudi Foreign Minister said that these are issues and mistakes that can happen in any country including America. The Crown Prince reminded the US President that America has made its mistakes and, like us, has taken the necessary steps to hold people accountable for these mistakes.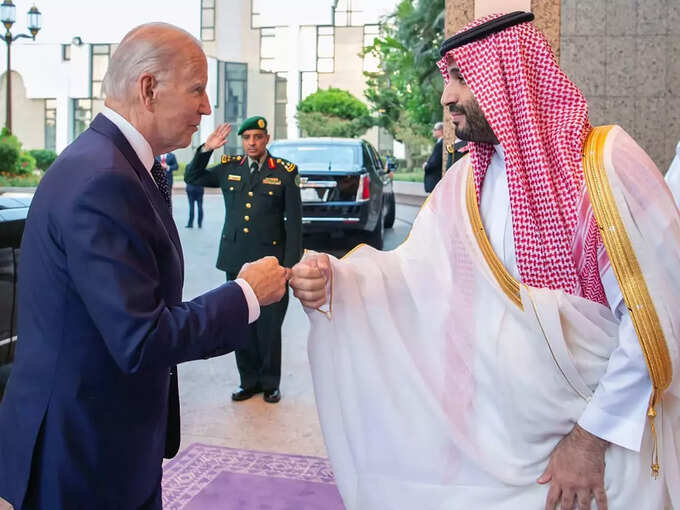 Saudi Minister of State for Foreign Affairs Adel al-Jubeir also said that we have investigated the Khashoggi murder, punished and ensured that it does not happen again. He said that this is what the country does. This is the same way America did after the mistake of Abu Ghraib. Actually, Abu Ghraib Prison was America's infamous detention center where Iraqi people were kept. The US started this prison after the 2003 attack on Iraq, which lasted till 2006. In 2004, several photographs of this prison were leaked, which revealed the sexual abuse and inhuman treatment of American soldiers with prisoners. A total of 11 US soldiers were convicted of this crime.


Middle East NATO: Biden making NATO in the Gulf too? Iran will be the target… but Israel and Arab countries standing at the crossroads
Emphasis on transparent accountability for murder of Al Jazeera journalist: Biden
Well-known Al Jazeera journalist Abu Akleh was shot during an Israeli military operation. Now Akleh has been reporting on the suffering of the Palestinian people during the Israeli occupation for several decades. American TV channel CNN, based on several evidences and witnesses, had revealed that the Al Jazeera journalist was deliberately shot by Israeli soldiers. On the other hand, Biden said during his visit to the West Bank that the US insists on clear and transparent accountability of the journalist's murder. Biden called the killing of Abu Akleh a great loss. The journalist's family has criticized the US investigation. It has also demanded from the US that it should take more steps to hold Israel accountable.