A US Congressional delegation kicked off a surprise one-day visit to Taiwan – Washington's second visit to the self-governing island this month.
Despite Beijing's previous demands to cancel the trip, the bipartisan delegation landed in Taipei on November 25 and, during a meeting with the president, praised Taiwan as a "force for good in the world."
Led by Mark Takano (California), chairman of the House Veterans Affairs Committee, the five-member group also includes Rep. Colin Allred (Texas), Rep. Elissa Slotkin (Mich.), Rep. Sarah. Jacobs (Calif.) And Rep. Nancy Mays (RSC) reported at the American Institute in Taiwan, the de facto US embassy.
"The connections between us are more positive and productive than they have been for decades," Takano said during a meeting with President Tsai Ing-wen at her office in Taipei on the morning of November 26.
"Our commitment to Taiwan is unshakable and will remain unwavering as our ties deepen. Taiwan is a history of democratic success, a reliable partner and a force for good in the world, "he added.
This is the second US congressman's trip to Taiwan this month and the third this year.
A group of six Republican MPs visited the island on November 9 and met with Tsai and other senior officials as the Chinese military patrolled the Taiwan Strait on alert. Another delegation of three senators visited the island in June to donate badly needed vaccines.
"This is a continuation of something that happened a long time ago," Scott Simon, co-founder of the Department of Taiwan Studies at the University of Ottawa, told The Epoch Times.
However, he said that China's aggression against Taiwan is the driving force behind the latter's international diplomatic recognition.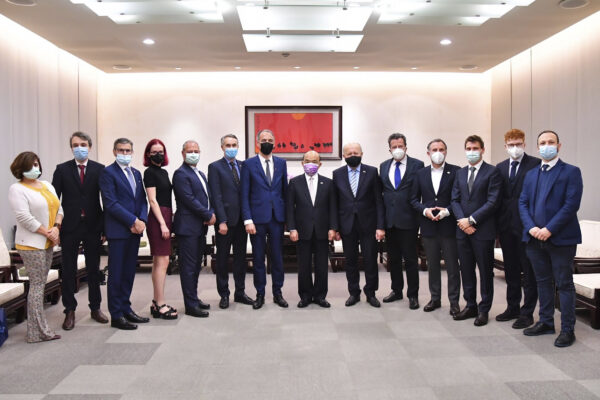 "In the past, many countries were afraid of offending China with official and visible visits by ministers from Taiwan, and this is probably one of the most sensible visits."
The world now sees the need for "symbolic gestures and some visible contact" to show China its strong support for democracy and international rules, Simon said.
The November 25 visit comes after the Biden administration invited Taipei to attend the US-led Democracy Summit along with 109 other governments next month, and Beijing is not on the guest list.
Challenging Beijing
The latest visit appears to have been a previously unannounced US delegation leg following a trip to Japan and South Korea that began on November 19 and sparked criticism from Beijing.
"When news of our trip came out yesterday, a harsh message came to my office from the Chinese embassy asking me to cancel the trip," said Slotkin, a member of the delegation. tweeted upon arrival in Taiwan.
The Chinese Communist Party regards the island as its lost territory and refers to Taiwan issues as "internal affairs," although it has not ruled Taiwan since he came to power in 1949.
"It's wrong to call it a reunion because they were never reunited," Simon said.
Beijing has stepped up military and political pressure on Taiwan to accept its claims to sovereignty, and tensions between the two have reached their highest levels in decades.
Tsai wants to maintain a mutually beneficial coexistence with his neighbors, but has pledged to defend Taiwan in the event of an attack. The United States does not maintain formal diplomatic relations with the democratic island, but is its most important international patron.
"In terms of the regional situation you are focusing on, Taiwan will continue to expand its cooperation with the United States to uphold our shared values ​​of freedom and democracy and ensure peace and stability in the region," she told visitors. Delegation on November 26.
China is "strongly opposed" to formal interaction between the US and Taiwan authorities, Foreign Ministry spokesman Zhao Lijian said on November 25.
The Chinese Foreign Ministry has not yet officially commented on the recent visit.
…