Key Facts:
Ergo and Ethereum Classic were the networks that received the most outgoing hashrate from Ethereum.

Looking at the hash rate migration, returns fell to 80%.
As of 15 September, Ethereum mining has ended. More than 800 TH/s of its old hashrate was discarded. It is that Ethereum was the second network with the highest hash rate in the ecosystem before Bitcoin. This move caused miners to start looking for returns on other networks, giving them negative returns.
This scenario, coupled with market and price volatility, The stabilization of the market has prompted many miners to "stop and wait",
Yesterday, networks such as Ergo and Ethereum Classic saw their hash rates increase rapidly. For example, Ethereum Classic's hash rate has increased by more than 20x, causing profitability to drop by over 80% as a whole.
In July, the profitability of Ethereum Classic was around USD 12 per day using 6 RTX 3080 GPUs. Currently stated profitability is located at USD 1.5 of daily output. According to data from WhatToMine, reducing the cost of electricity consumption gives negative returns.
Former Ethereum miners continue to migrate between networks to try to find stable returns. Prior to the merge, Ethereum provided returns close to USD 16 per day with 6 RTX 3080 GPUs.,
On social media some miners post pictures of their detached mining rigs with the message "clean and save" while they wait for the market to stabilize.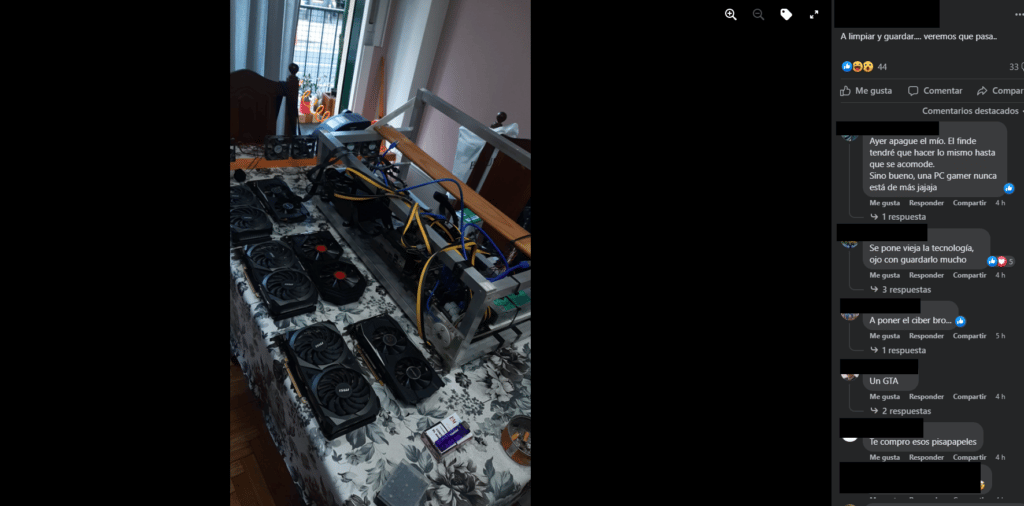 It seems that, despite the diminishing returns, some users still have little hope of making profits with their devices again, and They decide not to auction them in the market, As reported by Cryptonoticious, the team's auction is not going well because of how saturated it is currently. Even brand new GPUs are selling for less than their launch price.
Similarly, other slightly more positive users invite us to continue mining, despite the fact that the return is only USD 1. This is in the hope that profits from a future bull market will increase.,