TORRANCE, Calif.—Dozens of South Bay residents protested the state's vaccine and mask mandates on Feb. 12 and collected donations for an upcoming Trucker Convoy in Southern California.
The protest took place at the intersection of Hawthorne Boulevard and Sepulveda Boulevard in Torrance, about 30 minutes south of downtown Los Angeles.
Jennifer Viggiano, a Torrance resident who helped organize the rally, said it was part of a monthly rally to not only demand the removal of both the vaccine and mask mandates but also to show their support for an upcoming Trucker convoy.
"We do them once a month and our hope is just to restore freedom and put an end to all [mask and vaccine] mandates," Viggiano said. "We view them as unconstitutional, and we especially want our kids to be unmasked in the public school system."
Viggiano said many drives have shown their support for the protest by honking their horns.
"The honking is so loud. It's hard to even have a conversation with the person next to you," Viggiano said.
The rally received donations of money, water, food, and blankets in support of a planned trucker convoy to Washington DC, according to Summer Bailey, helped who collect donations at the protest.
One of the efforts being promoted on social media, dubbed The People's Convoy, is calling truckers to join the planned convoy starting in Coachella Valley in Indio, California, in early March to protest the mandates, according to Bailey.
The official account of the group on Facebook has over 83,000 followers and is now collecting donations.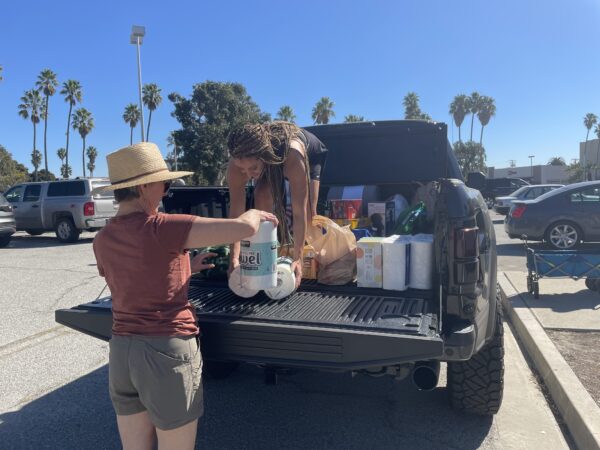 Melissa Vanegas, a mother of four, told The Epoch Times that she believes that people should have the choice to not be vaccinated, saying she is concerned about the side effects of the COVID-19 vaccine.
"People should have a choice and not have to lose their jobs or not be able to go to school," she said.
Nichole Lesassier, a Torrance resident who works at the Port of Los Angeles, said she has been coming to these monthly rallies since November 2021 and she wanted to make her voice heard so that people should reserve the right to do what's best for their bodies.
"I feel like our freedoms are being taken away and when something is taken away, it's not given back. … I totally support the truckers," Lessassier told The Epoch Times.
Another rally attendee, Felix Yu, made donations to the planned trucker rally, saying he hoped to do more to support the cause.
"I am not against vaccines, per se, but it's absolutely a risk for some people and they shouldn't be taking it and we shouldn't be forcing them," he said.
.