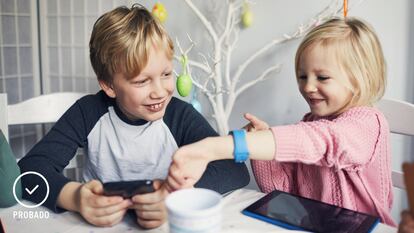 Technology is not exclusive to the adult consumer. It is increasingly common for children to use it from an early age, for example, using their parents' mobile phone, tablet or computer. Since it is practically impossible to avoid this contact, the ideal would be for children to have access to technological devices specially designed and manufactured for them. An example is this selection of activity bracelets with which to instill in them the importance of enjoying a healthy life through physical activity.
What activity bracelet for children to buy?
The following models have been selected: Biggerfive Vigor 2 (8.8), Fitbit Ace 3 (8.75), Garmin vivofit jr.3 (9), Gydom KR01 (6.25) and Leelbox V10 (7.25). Each one has received a final average rating based on the analysis of these criteria:
Design: although they have common characteristics such as their resistance to water and are made of silicone, there are differences in terms of their resistance and durability.

Screen: in addition to its size, the quality between one and the other is not the same.

Application: each bracelet is associated via Bluetooth to a free mobile application compatible with both Android and iOS devices. How is this app? What features does it provide?

Performance: from the point of view of the user experience. If the activity bracelet has met our expectations, if the data it records is correct, what autonomy does it offer?
Comparison of activity bracelets for children: this is how we have tested them
Over the last month and a half, we have tested these five models, always keeping in mind that their performance cannot be compared to bracelets for the adult public. Nor to those that have a higher price. Having made this clarification, we have analyzed its design and comfort of use, always thinking about the public to which it is intended. We have also checked its functionalities, possibilities of its app and battery life.
The Garmin vivofit jr.3 fitness tracker for kids received the highest final average score. Its design has been worked very well and promises an autonomy of up to a year using the battery that it incorporates. The records you make (steps and distance traveled) are very reliable and through the Garming Jr application a whole world of possibilities opens up that, through the game, encourages physical activity.
Garmin vivofit jr.3 fitness tracker for kids: our choice
It replaces the vivofit jr.2 device analyzed in this other comparison. It does so by maintaining the philosophy of its predecessor, but opting for a completely renewed design that is more reminiscent of a watch than an activity bracelet. This explains that its weight has increased a few grams (from 17.5 to 25) and that the screen is somewhat larger. It is still in color and thanks to its transflective technology it can be used outdoors without problems. The resolution has also improved and from 88 x 88 pixels to 112 x 112 pixels. Its design is waterproof.
It is equipped with a stopwatch, timer, step count, sleep monitoring, training cards with exercises to be completed, challenges… It must be linked to the Garmin Jr application: in this case, the bracelet and the app communicate with each other via via Bluetooth instantly. What is promoted is motivation and different objectives are proposed for this, so that the effort is rewarded since adventures are unlocked, it is possible to access new games, collect precious gems… Meanwhile, parents can program reminders.
Datasheet
Strap material: silicone
Screen: 14.11 x 14.11 mm and 112 x 112 pixels. Visible in sunlight, transflective
Weight: 25 grams
Battery autonomy: up to 1 year (1 user replaceable CR2025 battery)
Waterproof: yes, 5 ATM
Connectivity: Bluetooth
Clock functions: time, date, alarm clock, stopwatch and timer
Activity Tracking Features: step counter, distance traveled
Tracking functions for the child: Toe-To-Toe challenges, unlock new step icons, emergency (ICE), task reminders, audible alerts, timer for tasks, rewards (coins) 60 minute game target
Others: seven timed activities, 14 days of activity tracking data, sleep, accelerometer
With a battery life that is expandable to one year according to the manufacturer (thanks to a CR2025 battery), it can record up to seven timed activities and 14 days of activity tracking data. At a security level, families can store their child's emergency contact information for easy access if necessary.
The best: autonomy, ergonomics and application possibilities.
Worst: its high price.
Conclusions: bet on gamification so that children acquire healthy habits without them realizing it.
Fitbit Ace 3 Activity Tracker for Kids: The Alternative

It takes over from the Fitbit Ace 2 model that we already had the opportunity to analyze, introducing notable improvements such as a longer battery life, which allows it to last a week without problems. Available in different colors, it has a design that is especially comfortable thanks to its flexible silicone strap.
In addition, it is submersible (up to 50 meters), its adjustable closure adapts to wrists between 116 mm and 168 mm and the screen -compared to its predecessor- is slightly larger and brighter, which improves its visibility even though it is monochrome. Being tactile, it is possible to move comfortably through the menus that it incorporates; by the way, that the animated spheres that it shows will immediately catch your attention. The two physical buttons that this smart bracelet has are also used to turn this display on and off.
The little ones can have their own profile (with an interface adapted to their tastes) within the Fitbit application -essential to get the most out of it- as long as an adult previously signs up for the app and creates a family account. This will allow them, for example, to keep a detailed control of their daily activity or receive a reminder to move if they have been sitting for a long time. And it is that the purpose is to motivate them to do as much exercise as possible; hence, they can challenge other family members or earn virtual badges as they reach goals. Thanks to the Fitbit Ace 3 it is possible to monitor their sleep hours as well and set reminders to go to sleep. Other information of interest: it has a stopwatch and a timer.
Biggerfive Vigor 2 Kids Activity Tracker – Best Value for Money
Available in black, blue, pink and purple, like other models in its class it has a waterproof design and silicone has been used in its manufacture, a material that is not only found on the strap but also on the edges surrounding the screen: this display incorporates in the lower part has a touch button that responds well to touch on its surface. And autonomy? It is powered by a battery that recharges in just over two hours and in return can be used between four and five days before recharging.
Not only does it record the quality of sleep, the distance traveled, the steps taken and the time the child spends on physical activity, it also offers records associated with their heart rate and calories burned, although on occasion the results provided do not they are accurate enough. Another of its extra features is that it suggests different sports modes, including basketball, soccer and cycling. The statistics obtained can be consulted through the Biggerfive application: its learning curve is quite simple and, in addition, it is possible to program an alarm, daily step goals and reminders such as, for example, the activity bracelet notifying the little ones they have to get up to move or drink water. From this same app it is possible to choose one of the five spheres that can be added to the main screen from where the time and the remaining battery can be consulted.
Activity bracelet for children Leelbox V102
It shows a good finish and the quality of the silicone it uses looks good. Also the closure, which ensures that it can be worn comfortably for quite some time. And speaking of quality, its display looks better than expected, especially if we take into account the price range in which it is located, although it does tend to get very dirty and when interacting with the finger it does not always respond to the first. As for the battery, it uses a magnetic charger that fits very well. You have to invest a charging time similar to that of the other activity bracelets for children: this allows you to enjoy an autonomy that ranges between four and five days.
It is linked to the Wofit application, which collects different statistics, in line with what other apps of its kind offer. Thus, it counts the steps that have been taken and allows you to know the heart rate reached (it is more of an estimate because the rest of the options are recorded with fairly accurate results), calories burned and distance traveled. It can also be used to track sleep quality. As with the Biggerfive Vigor 2 and Gydom KR01 models, it suggests several sports modes (on this occasion six) to keep track of the chosen activity as completely as possible.
Activity bracelet for children Gydom KR01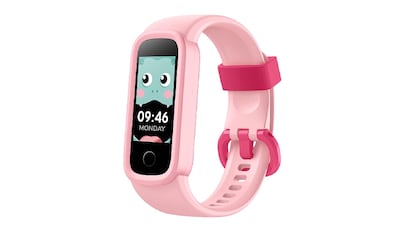 It is the most economical option of all and this is evident in the quality of the silicone it uses, its comfort of use and screen; characteristics that decrease slightly with respect to their opponents. These impressions are also transferable to the user experience offered by the application to which it is linked (it is called VeryFit) fundamentally because the communication process between the bracelet and the app failed on several occasions.
It incorporates a pedometer and heart rate monitor function, and also records the distance traveled. In addition, it has been provided with more than a dozen sports modes (running, cycling, dance, basketball, tennis…) and there are also other options typical of this type of device such as the programming of reminders, sleep monitoring and alarms. Despite this wide range of possibilities, in practice the results obtained are not always reliable enough because sometimes errors occur. Meanwhile, the battery is recharged in a couple of hours and in return you get a range of three days. There is a version in black and another in pink.
*All purchase prices included in this article are current as of April 7, 2022.
[Recuerda que si eres usuario de Amazon Prime, todas las compras tienen gastos de envío gratuitos. Amazon ofrece un período de prueba gratuito y sin compromiso durante 30 días.]
You can follow EL PAÍS SHOWCASE at Facebook e Instagramor subscribe here to our Newsletter.