A boat remains alone on broken ground on which it once swam: Lake Poopo, the second largest in Bolivia, has disappeared, along with an ancient way of life.
The Urus refer to themselves as the "Water People". Mastered in fishing and hunting birds like flamingos, they lived on floating islands and reed rafts for centuries until they settled ashore. Felix Mauricio's grandparents moved to Punaca Tinta María in 1915, when Pupo flooded the village of the huts where they lived.
"The fish was big, a small fish was three kilos," recalls Mauricio, an 82-year-old retired fisherman who chews on coca leaves to stave off hunger. He wears a totora hat, the native reed with which the boats are made, and a striped poncho, a symbol of the Urus, a people established in Peru and Bolivia thousands of years ago.
"Here was the lake. It dried up quickly," Mauricio told AFP, kneeling on the bed in what is now a desert. El Pupo, a salt lake that covered 3,500 square kilometers at its peak in 1986, completely evaporated in late 2015.
Scientific studies attribute this to a confluence of factors such as climate change and the extraction of water for agriculture and mining in the Bolivian Highlands at an altitude of about 3,700 m above sea level.
World in crisis: a lake disappears in Italy while a hole grows in Chile
Along these lines, research published in 2021 in the Journal of Hydrology: Regional Studies points to "climate variability" and the use of water for irrigation as reasons for lake retreat.
water orphans
The Mauricio family is one of seven left in the Punaca Tinta María in the Oruro region of southwestern Bolivia. Before Poopo dried up, there were 84 families, Confirm the people who still live in the small lakeside town that has turned into a dry wasteland today.
Together with two nearby towns, Llapalapani and Vilanec, it is home to the remaining Urus in the area, with only around 600 as of a 2013 survey.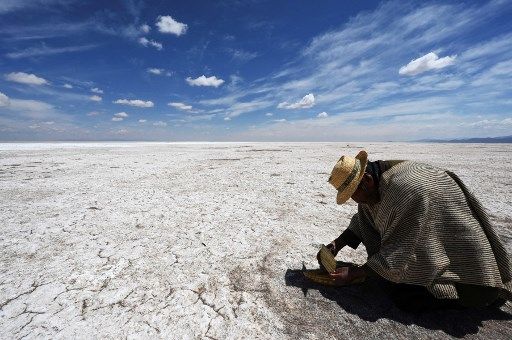 Felix's daughter Cristina Mauricio, who is estimated to be 50 years old due to a lack of birth registration, laments, "The troubled (many of us) lived here before. Now they're gone, there's no work." "
In recent years, rain has brought back a thin layer of water to parts of the lake, but it is too flat to navigate and almost without fish or birds. no lake, The Urus have learned to be masons, miners and farmers of quinoa or other crops to earn a living.
"Who thought the lake was going to dry up? Our parents relied on Lake Poopo… It had fish, birds, eggs, everything. It was the source of our lives," Luis Valero, Spiritual of Malcu or Urus The leader says Poop.
"We are orphans" Adds the 38-year-old fisherman in charge of the five kids running around the canoe at the door of the adobe house.
Aside from being left without their lake, the Urus also have no land: their neighbor, the Aymaras, vie for state-issued property titles to protect the farms they had taken years earlier.
The government, for its part, intends to distribute the remaining parcels among Urus. However, they assure that some are fertile.
"they will disappear"
The remains of the lake are largely a layer of salt on which the last villagers rest their hopes. He spent whatever he could on a small plant to make iodized salt.
But they ran into something unexpected: They couldn't come up with $500 to buy a bag to pack the salt in.
"Urus will disappear if we don't forecast in time"When visiting the area in October, Senator Lindoura Rasguido of the government party Movimiento al Socialismo (MAS) insisted.
According to the United Nations, the number of people in water-scarce areas will increase from 2.7 to 3.2 billion by 2050, up from 1.9 billion in the first half of 2010. And, according to monitoring group IDMC, 30.7 million were displaced in natural disasters. People of their countries in 2020 alone.
In the middle of the new desert, Mauricio quietly contemplates his wrecked boat. Around his neck he wears an old miniature reed boat he made. He sighs, takes it off and carefully places it on the dead earth where he used to tame the waves and the wind.
The lake "will come back! In about five, six years it will be back," repeats the old man calmly.