Ozempic, a drug approved for the treatment of type 2 diabetes, has suffered from shortage problems for several months, as pointed out by the Organization of Consumers and Users (OCU). The reason: through social networks its use – unauthorized – to lose weight has become popular because, among its effects, to a greater or lesser extent, the reduction of appetite and weight loss .
This lack of supply led to counterfeits appearing. It was reported by the European Medicines Agency (EMA) which warned of the marketing of "pre-filled pens falsely labeled as the diabetes medicine Ozempic."
Currently, counterfeit Ozempic injectables have been found in wholesale distributors in the United Kingdom, Germany and Austria. In Spain, there are no announcements about this at the moment.
The fake injectables are marked in German and have barcodes and serial numbers from genuine Ozempic containers. In fact, the fraud was detected since scanning this data in the electronic drug tracking system of the European Union, it was found that the codes belonged to the units that had already been given, which alerted the authorities.
According to what they reported, just looking at the outer packaging it is almost impossible to distinguish the fake pens from the real ones, it is in the injectable where you can see that the product has a different appearance, as seen in the following picture: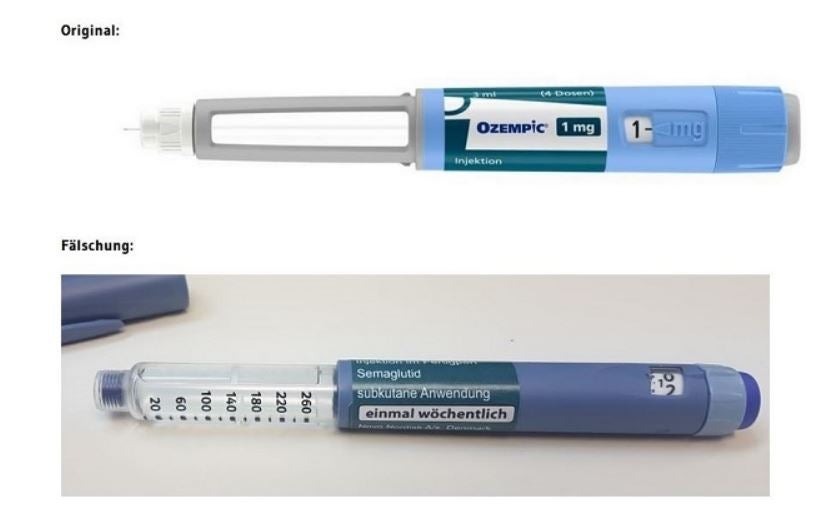 The EMA is not aware of fake pens being given to patients by legitimate pharmacies and there have been no reports of harm to patients in relation to fake medicine.
The matter is currently being investigated by the EU drug regulatory authorities and the police, and wholesalers and pharmacies in the affected countries have been warned about suspicious offers from Ozempic to wholesalers. In addition, parallel distributors throughout the EU have been alerted.
Meanwhile, the European Medicines Agency advises patients on Ozempic to check the medicine information leaflet to see what the original pens look like. He also advises them not to use Ozempic injectables if there are suspicions that they may be fake – "because it has serious health consequences," he warns – and points out that if the pen does not show the characteristics of the original, they must Return it immediately to your pharmacy and follow the advice, in this case, of the Spanish Agency for Medicines and Health Products (Aemps).