On the order of the President of the Parliament, Alejandro Soto, this Monday, October 30, they set up a plenary session of the Congress of the Republic where they will examine Dina Boluarte's exit permit from the national territory, between November 1 and 4.
As it is known, the president asked the Parliament for permission to travel to deer to participate in Inaugural Summit of Leaders of the Alliance of the Americas for Economic Prosperity (APEP), to be organized by the Government of the North American country. The request was given in the context of the economic recession in which Peru finds itself, according to information provided by the Minister of Economy, Alex Contreras.
The head of the Parliament sent calls to the Presidency of the Republic to talk about the mixed session that will take place on Monday.
The Congress sent a call to the Presidency of the Republic. Photo: Congress
Dina Boluarte will continue to lead the country almost
The President of the Republic, Dina Boluarte, will be able to govern remotely if he is given permission to leave the national territory. This is after the congressmen supported with 72 votes in favor, 40 against and 6 abstained a rule that allows it.
"The president of the republic will remain in charge of the office of the Presidency of the Republic using digital technologies, adopting digital security mechanisms and guaranteeing the security of the means to be used, within the framework of the provisions of article 8- A of Law 29158, Organic Law of the Executive Branch, incorporated by Law 31810, as well as in the current regulations on digital security and trust in the country," the legal text says.
Fourth trip abroad
Despite the constant questions, the president asked for permission to go to the United States, which will be his fourth trip to the country while carrying out his far-reaching presidential duties.
First trip: President Dina Boluarte went to Brazil to meet with President Lula da Silva within the framework of the Amazon Summit.
Second trip: He left for New York, where he attended the UN General Assembly.
Third trip: The head of state went to Germany, Italy and the Vatican.
Parliamentary Unity and Dialogue expressed the travel permit of President Boluarte
Congressmen Juan Burgos, Esdras Medina, Katy Ugarte, Héctor Acuña and Luis Cordero Jon Tay spoke as a group through their legislative group regarding Dina Boluarte's travel request.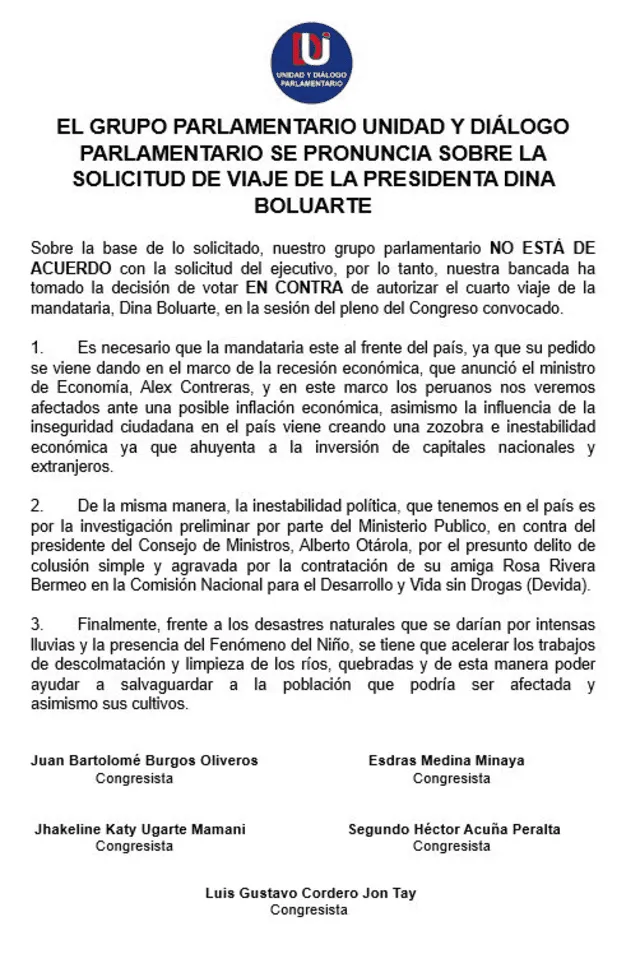 Statement by Norma Yarrow
The congressman from Avanza País is one of the political personalities who rejected the request of the head of state to leave the country again.
"Have empathy for your country and stop traveling. Work here because Peru needs you," the lawmaker was heard saying.