He is lying on the bed with an injured back. With a pickaxe he dug, dug and dug; With shovels he ripped some of the life out of the virgin land half wet from the recent rain. His hard-skinned hands are still welded to his arms; The arms also atrophied and stuck to the body. For the lean body like the wild reeds that accompany some stretches of the Tuinucú River. Now his gaze wanders over the very white ceiling of the room; of course, knows much less than the soul of his grandmother María Montesinos, may she rest in peace.
A journalist called him this morning. He was a six foot tall guy by the voice, and God knows how many inches it was. You want to interview him.
"Me?!" he replied. Nobody teases him that easily.
"Yes, yes, yes," they told him on the other end of the phone line.
– But if I am a simple undertaker.
The well man that was and the fisherman that is
Omar Ávila Pentón has been between life and death for 23 years. And this feeling is experienced in the cemetery of the city of Sancti Spíritus, where he arrives with a clean pedal from Tuinucú; A city that he believes will die as soon as the sugar factory chokes off the last whistle of the harvest.
Seven kilometers there and seven kilometers back by bike. Nearly nothing. He follows her every day in the world. Not all. Four days in a row, not the fifth, because the gravedigger is also a being of flesh and blood and has to give the body a ten.
So Mismitico will tell the journalist. He thinks about it as he continues while looking at the ceiling, lying on the bed, trying to guess what the guy with the announcer's voice is going to ask him tomorrow. Since April always precedes May, you'll surely be interested in what you did before you became a gravedigger. Omar built wells. At this point he was in his early twenties; Now 50. He was part of a drill crew and spent his life climbing on a truck. When he returned home and laid the boots with their worn-soles to rest to rest from the work, if he left them they could return alone to where the well-digger was that day.
The well driller works with the eye of a good masonry driller, and Omar didn't like that very much. How many times did he and his people stay there under resistance, piercing the earth and rocks, trying to find the happy waters, and nothing? It didn't just hurt in the body. They were fuel, resources, time… All lost. One day he picked up the tiliches and the eyes that saw you go.
One morning in early 2000, Ávila Pentón was visiting a friend at the Kilo-12 cemetery; The friend who was still alive told him about a vacant position as a gravedigger. He didn't even hesitate; except the one who eats no fear.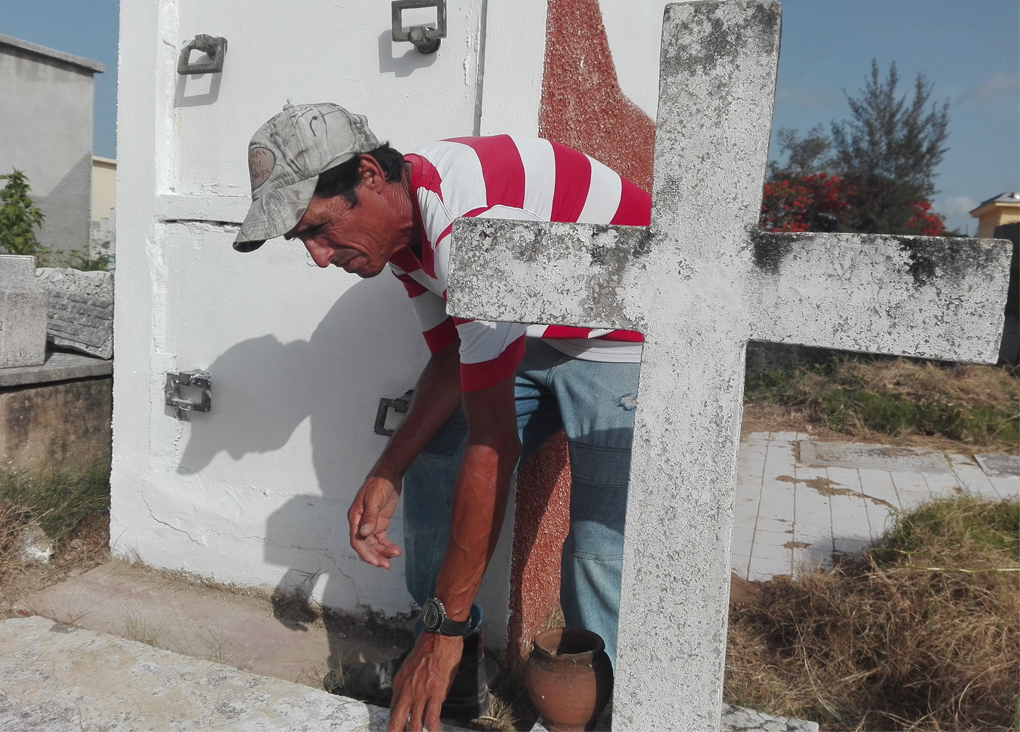 In truth, he doesn't eat fear; but those who take on this office are met with plenty of curious glances. Omar doesn't give a damn about prejudice. Still, he makes an argument from time to time, with the same vigor with which the Cid Campeador wielded the sword that gave birth to medieval Spain: if all were doctors, there would be no peasants to grow food; If they were all peasants there would be no teachers to teach them; If everyone were teachers, there would be no gravediggers. What if there were no people to give the deceased a dignified burial?
But seeing so many coffins with so many people taught him another lesson: since a newborn screams, "Shit, here I am!" at the top of its lungs, it needs to be taught not to waste time. live decently. The tremendously difficult thing is when that son goes first. And that happens on many occasions.
Omar has gotten used to dealing with death; Moreover, every time it buries a child, the soul becomes fine crystal. If possible, avoid it. These are the deepest scars that trading has left on him. Several examples come to mind; He tried to erase her from memory, from that indelible memory.
Because of this, when his heart is half broken, he searches for the fishing rod and the tractor chamber and gets caught in the first puddle that crosses his path; However, to be fair, no one thinks that Omar the gravedigger is a makeshift fisherman.
—I hope the journalist will ask me about it. I will hold a banquet talk there.
Almost all dams in the country know this member of the Cuban Sport Fishermen's Union. And if you want to give him a chord to tune, talk to him about trout. He will describe them to you in detail: whether their sides are silver, whether they have red or black spots; He will draw them for you with the brush of the exact word and with such realism that it suddenly seems as if you are looking at the painting Troutby the French Gustave Courbet.
Obviously, the journalist will not be able to boast of his wisdom to the gravedigger. Here, in the world of the living, everyone carves and carries a light, their light. And what does Ojito Linares know about fish if he has never caught a guaiacón in his life, either in Bacuino or in the Naranjo creek in La Sierpe, where he took a few baths as a boy?
Perhaps the reporter will confess to Omar, who fishes more than he talks. With a catch, it will be necessary to get him out of his mouth that he caught a six-pound trout in a competition in Minerva Dam, Villa Clara, last February. Orondo took home third prize. However, the day his wife Esther María realized his happiness came from his clothes was when he returned from that national tournament in Río Cauto, Granma. The specimen weighed eight pounds, which it took from the warm belly of the Leonero Lagoon.
This is how this gravedigger survives the test of time. One day fishing, another playing dominoes with the residents of the neighborhood and most of all among graves, corpses and the silence of the cemetery; In short, surrounded by death, the death that humiliates us, that screams at us how small life is.
Few know this better than Omar. He felt it during the Covid pandemic that he fell ill with. The dead have never been so alone: ​​neither those who were buried years ago, nor those who died infected by the SARS-CoV-2 virus. Hearses did not arrive at the cemetery until after midnight; Occasionally, Omar was seen opening the door of his home in Tuinucú at 1am. Him, the bike, the sadness.
And loneliness too. Family members rarely attended these funerals from afar. There were days when the gravediggers couldn't cope; There was no other option but to resort to a backhoe loader.
I thought nobody would stay alive.
my grave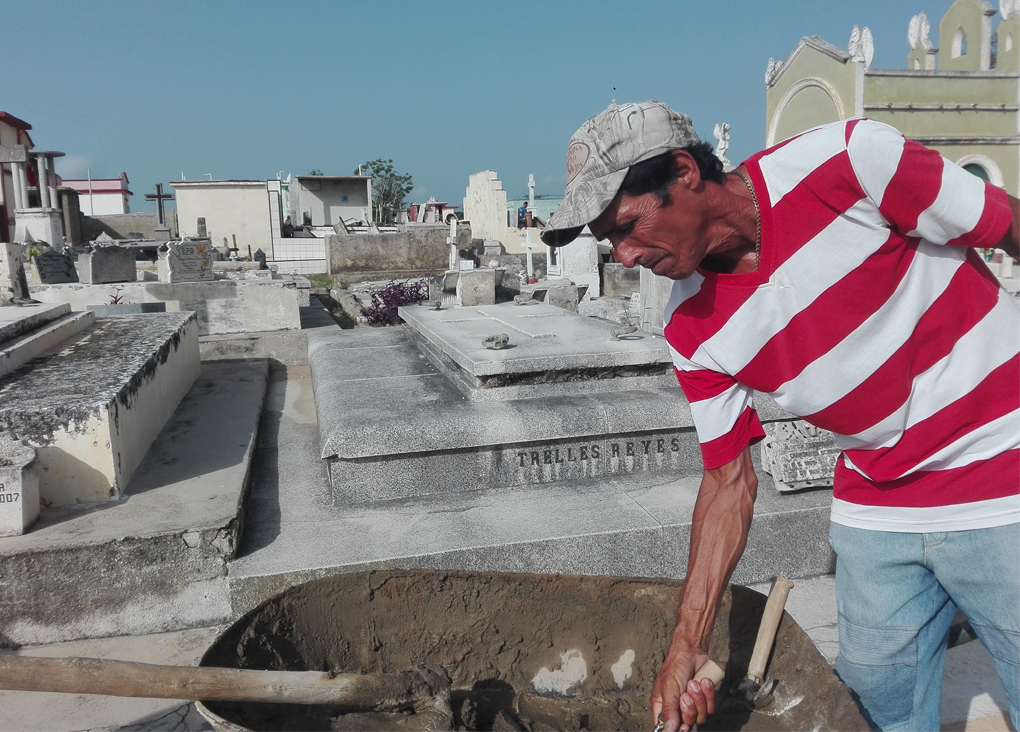 On the bed, Omar with a tattered back, hard skin on his hands, parched arms and a bony body. And grandmother María Montesinos awakens the memory of her grandson.
teacher was. A teacher who not only climbed the Escambray mountains with a primer in one hand and a literacy lamp in the other. Also a teacher of life who taught him what to do today; Often there is no tomorrow.
The grandmother physically left the Spiritus cemetery shortly after he took office. He swallowed the pain and dug the small grave. Omar's grandmother was very thin; though his heart weighed all the gold on the planet. Because of this, his grandson dropped the last flower sleeping on the coffin. A white rose.
"Come here, Omar, and how will your funeral be?" the journalist finally asked him face to face, who was no taller than six feet tall or something.
"No, no, they will not bury me." My daughter Alejandra already knows; you will burn me
"And the ashes?"
– My grave will be the sea.
Cover photo: When the Covid pandemic hit, Omar concluded that no one would be left alive. Photo: Arelys Garcia Acosta.