NEW YORK. Backed by a solid recruitment, massive wage increases, and significant savings, shoppers are returning to stores and spending money on all types of merchandise.
But the big question is: How much will supply shortages, price increases, and staffing problems worsen their spirits this holiday season?
Americans, already tired of the social distancing policies caused by the pandemic, may be annoyed if they can't check items on their holiday wishlists, or they may be frustrated with meager holiday discounts. Compounding their bad mood is the fact that many disaffected workers have announced that they are quitting ahead of the holidays, leaving businesses short of workers during the busiest times of the year.
Shoppers are expected to pay an average of 5-17% more for toys, clothing, appliances, televisions and other purchases on Black Friday this year compared to last year, according to Aurelien Duthoit, senior industry advisor at Allianz Research. On average, TVs will see the highest price jump, 17 percent from last year, according to the research firm. This is because any discounts available will apply to items that are already expensive.
Such disappointment could reduce sales ahead of the record-breaking holidays.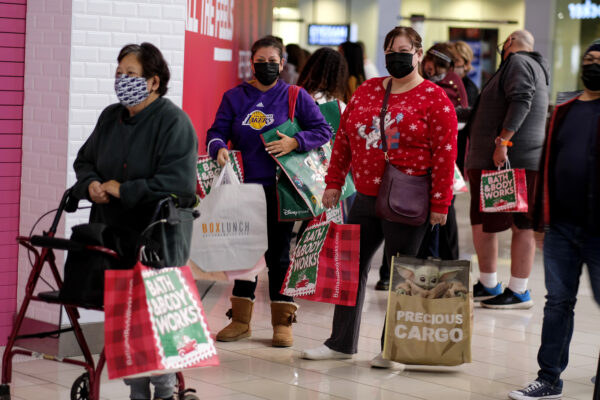 The National Retail Federation, the country's largest retail group, predicts 8.5-10.5% growth in holiday sales over the 2020 holiday period, when shoppers locked out at the start of the pandemic were spending their money on pajamas and merchandise. for home. – mostly online. Holiday sales rose 8.2 percent in 2020.
"I think this will be a tough holiday season," said Neil Saunders, managing director of GlobalData Retail. "It will be a little annoying for retailers, consumers and workers. We will see long lines. We will see dirtier shops. When you collect online orders, we will see delays. "
Jill Renslow, executive vice president of business development and marketing for Mall of America, the nation's largest mall, expects customer numbers to be close to 2019 levels on Black Friday and said store tenants will see "powerful shopping" at the start of the season. … But she acknowledged that the mall's tenants were short of staff, and as a result, the mall would open two hours late and close an hour earlier on Black Friday.
"They [retailers] do their best to give the guest a good experience, "Renslow said. "But consumers need to be patient and know that the lines can be a little longer."
That said, don't discount the resilience of buyers who have shown signs of wanting to celebrate the holidays after last year's muted celebrations.
Kathleen Webber, a 58-year-old college teacher who lives in Yardley, Pennsylvania, said she will return to big family gatherings for the holidays and buy more gifts after spending the last year's holidays with just her husband and three children.
"Everyone is so happy to be together and that's why we want to celebrate," said Webber, a major online shopper. But fear of scarcity is forcing her to finish her holiday shopping by the end of next week; she usually waited until December 21st to complete her online purchase.
Retailers have also proven their resilience
When the pandemic forced non-essential stores to close for several months in the spring of 2020, experts feared the death of department stores and clothing chains. A number of iconic retailers that were already struggling with bankruptcy have reorganized, including Neiman Marcus, JC Penney and Brooks Brothers. Meanwhile, large retailers like Walmart and Target, which were allowed to stay open, only got stronger.
But since then, many retailers have recovered their financial position. According to S&P Global Ratings, the percentage of US retailers who defaulted on their debt rose 20 percent last year, compared with 6 percent among all corporate issuers. Less than 2 percent this year.
Store closures have also stabilized, completely changing the bleak picture of 2020. International research firm Coresight Research reports that retailers in the US announced 5,057 store closures for the year, but as of November the number of openings is 5,103. 19. Coresight Research predicted that 25,000 stores would close in June 2020 last year , but in fact there were just over 8,000.
Companies that survived the pandemic were also able to turn around quickly. Many switched their offerings from fashion to casual wear, and department stores like Macy's, which had never provided services like curbside pickup, suddenly launched them. Others got rid of their unprofitable positions.
Some of the changes that were made in 2020 out of necessity are likely to continue, including offering big holiday discounts in early October to smooth out spikes in online orders, and dropping out of store purchases on Thanksgiving and transferring clients online to complete transactions. …
While supply chain blockages caused by the pandemic have led to a reduction in inventory needed to meet customer demands, the shortage has also been a positive development. Leaner stocks have returned some price power to retailers who have been locked in a discounting vicious circle for years. These non-stop promotions eat up profits.
"Even with increased labor and supply chain costs, retail earnings were pretty good," said Ken Perkins, president of Retail Metrics LLC, noting that when the pandemic hit, it seemed "the sky is falling and retailers can never see a profit again. "
Anne D'Innocentio
…