Demonstrators in Los Angeles will no longer be able to demonstrate within feet of any target home, according to an ordinance passed by the city council in protest of the Covid-1 vaccine mandate in the city of Angelanes, which appeared at the home of two councilors.
On Sept. 1, the city council voted 1-2-2 to pass the ordinance, with council members Nitya Raman and Mike Bonin disagreeing, although they declined to comment on the final vote. A unanimous vote was required to pass the ordinance on the first lesson; In the case of the second lesson, ordinances usually require a simple majority to pass, but since this ordinance includes an emergency clause, it requires a three-quarters majority to pass. The final vote was passed on September 21, again 1-2-2.
Currently, city law states that people cannot protest within 100 feet of a target's private residence. The ordinance changes that law to feet00 feet and states that the purpose of a protest may be to sue violators of the ordinance for damages; Violators could also face a 1,000 fine.
Council president Nuri Martinez and council member Mitch O'Farrell made the proposal last month after an anti-vaccine mandate was shared with protesting council members by sharing their home addresses and encouraging people to come to their homes to protest.
Although those in favor of the ordinance express concern for the safety of City Council members, some Angelinos are concerned that the ordinance limits their First Amendment rights.
When he made the offer, Martinez said that one evening a group of people gathered at his home, knocking on his door and window, harassing his neighbors and family members, and "threatening my life."
Martinez said: "I think it's clear to me that these protests are on the rise now and what I'm really concerned about is the increase in real violence anywhere in our neighborhood, especially in our residents. Final vote.
Martinez said protesters should gather in public places, such as council members' offices or city halls, not in their homes.
"Those of you who disagree with the law we make here at this organization … are welcome to comment on the public or to protest any decision we make outside of this building, which is a public benefit," Martinez said.
"I think we need to do it now so that those of us who make tough decisions feel a little more secure, but more so than those of our family who haven't signed up for it," he said.
Some Los Angeles residents called at the city council's final voting meeting to express concern that their right to freedom of speech was being violated.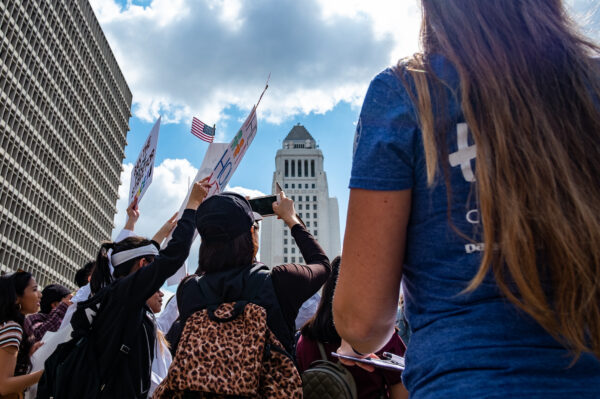 Other Angels gathered at Martinez's home on 14 September to protest the ordinance, and returned on the morning of 20 September and 21 September to protest before the ordinance was passed.
A video posted on Twitter by an activist group from K-Town for All shows protesters gathered outside Martinez's home, chanting with a megaphone, "Why are we on this street? No restrictions on 300 feet!
"When those in power refuse to listen to marginalized groups, they are persecuted. Protests are sometimes the only remaining option," activist Kenneth Mejia, who is also fighting for the LA controller, tweeted.
Activist groups, including K-Town for All, the Los Angeles Tenants Union, and Street Watch Los Angeles, have issued a statement on social media about the ordinance.
"The current proposed law criminalizes the illegal actions taken by violent right-wing extremists and prevents measures such as political cover from exercising their First Amendment rights in protest of the ongoing failure of our local elected leadership."
"As the ordinance represents other private citizens seeking a 1,000 fine against violators, it is clear that this ordinance is intended to silence most of us marginalized, including workers protesting unfair labor conditions or tenants opposing illegal evictions, from standing up for their rights."
Council members Nuri Martinez and Mitch O'Farrell, as well as activist groups K-Town for All and Kenneth Mejia, did not respond to a request for comment by Press Time.
.
This News Originally From – The Epoch Times