A poorly worded question to the congressional table by PNV spokesman Aitor Esteban, badly misinterpreted by Defense Secretary Margarita Robles, has prompted the Spanish government to halt a tender for a sailboat that the Spanish Navy had managed for a long time.
It was a used 50-foot sailboat with an ORC split hull and the deck of a modern TP 52 and was designed that way to save the $3 million a new-generation Transpac 52 costs. At no time did the Navy want a new ship, but rather one of the ships on the market to optimize and adapt to the ORC division.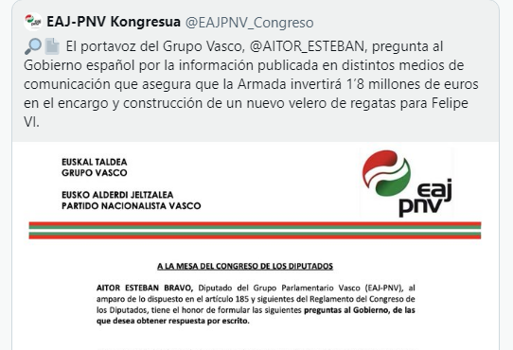 The misunderstanding was that both the PNV and the Minister assumed that the 50-foot boat was intended for the use and enjoyment of King Felipe, and it is necessary to clarify to the PNV and the Minister, in the ignorance of both, that all these sailing ships of the Spanish Navy come from the naval regatta commissions and are used for the training and retraining of the crews who are at all times in the naval sectors.
The King, who is Head of State and Captain General of the Spanish Army, is also the supreme authority of the Spanish Navy and can therefore use any of the ships in its possession. The current "Aifos" is the last ship acquired by the Navy, an old TP52 that is already 20 years old, so it is up to her to go into reserve. He also haggled in the "Sirius" saga and in the "Hispania" maxi, and at no point would anyone have thought that those boats were his property.
In addition, for a few years, King Felipe only sails in the "Aifos" during his holidays in the Copa del Rey in Palma de Mallorca, since his schedule does not allow him to be there more often, but in the "Aifos" in other regattas, Jaime sails Rodrguez Toubes, the captain of the ship, such as in the Queen of Valencia Trophy.
The ships of the Spanish Navy are owned by the Navy itself and have a captain appointed by the Naval Regatta Commission, a helmsman, and a crew, which in some cases may include retired sailors or civilians, but the ship, according to information from the PNV and the Minister, has no owner other than the Ministry of Defense itself, which pays for it.
The Spanish Navy is one of the great hotbeds of Spanish yachting, which has produced great cruising, Olympic, and ocean-going sailors, and of course King Felipe, who has haggled on Naval Commission ships since he was 15. They currently have a total of 43 boats distributed between the Marn Naval School and the Ferrol, Cadiz, Cartagena, Balearic, and Canary Islands naval regatta commissions.