In the ranking of the main wine importers in the world, many changes have occurred in this interannual period until June 2023 (twelve months from July 2022 to June 2023) compared to the same period in 2022. In terms of value, the top six positions remain unchanged: the US, the UK, Germany, Canada, Japan, and the Netherlands remain the top six global buyers of wine in euros. From the seventh position onwards, many changes were recorded. China, which was the seventh market in value year-on-year in June 2022, fell to ninth place after registering a drop of -12.4%. This 7th place is now occupied by Switzerland (+1.3%), surpassing China and Belgium, which now occupy 8th place (-3.4%).
On the other hand, Hong Kong lost 3 positions and moved to the twelfth position after losing -7.5%, which was surpassed by Russia (+48%), which rose to the tenth position, and France (+7.5%), in the eleventh.
In terms of volume, changes were also registered in the ranking in the twelve months to June. Russia surpassed Canada and Belgium and became the sixth world importer of wine, which grew by 41% due to a drop of 6.5% for Canada, which fell to the seventh position, and 5% for Belgium, which fell to eighth. China moved from seventh to tenth position after losing -29%.
The United States has consolidated itself as the leading wine market in the world, both in terms of value and volume. This is the market that increased purchases the most in these twelve months in terms of value, spending €453.1 million (+7%), up to €6,925.1 million. In terms of volume, it lost 3.2%, to 1,374.3 million liters, representing 45.6 million liters less than year-on-year in June 2022. It gained share by falling to a lesser extent than world imports, which fell 4.7%. Its average price stands at €5.04 per liter, 10.6% higher than that registered in the same period in 2022 (+48 cents).
The United Kingdom consolidated itself as the second-largest importer of wine by value, increasing its spending in absolute terms by €159.8 million to €4,705.7 million (+3.5%). In terms of volume, it remains in third place after the US and Germany, despite the loss of 8.2% to 1,253.8 million liters. It is the second market after China, which decreased the most wine purchases (-122.2 million). Its average price increased by 12.8% to €3.75/liter (+43 cents).
Germany, the 3rd world market by value and 2nd volume, unlike the US and the United Kingdom, registered a negative evolution in value (-4.3%) and lost -3% in volume, which reached 2,708 €.9 million (-121.8 million) and 1,367.3 million liters (-41.2 million). Its average price fell 1.4% to €1.98/liter (-3 cents).
Canada remains the 4th largest market in the euro world, with spending of €1,998.2 million and a drop of 3.2% (-€65.2 million), although it ranks 7th in terms of volume for purchase of 393.3 million liters (-6.5%). This difference between the positioning of value and volume gives an idea of ​​its average price, which is higher than in many other markets, which stands at € 5.08 / liter year-on-year until June 2023 (+ 3.6% or 18 cents more. ).
Japan is the fifth market by value, with €1,769.3 million (+11% or €177.9 million more), and eleventh by volume, with 253.2 million liters (+0.4% or 0.9 million liters). It has an average price of €6.99/liter (+11%).
impo wines download 1.jpeg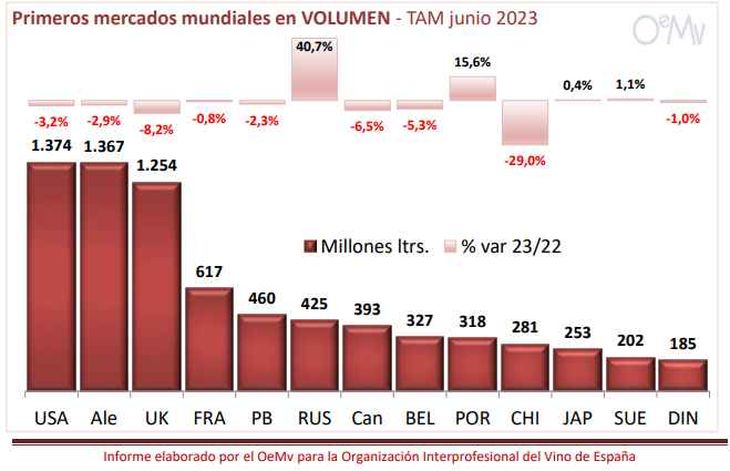 China, together with Germany, Canada, Belgium (-€44.5 million), and Hong Kong (-€80.3 million), is one of the markets that fell in terms of value among the 13 main markets, namely the one that does so. more in absolute terms (-12% or €177 million less), reaching €1,244.8 million. It also recorded losses in terms of volume (-29%), up to 281.3 million liters, representing 114.8 million liters less.
Russia, which gained ranking positions. Its imports grew by 48% in value, up to €1,210.6 million (+391.6 million), and 41% in volume, up to 424.5 million liters (+122.9 million).
The 13 main markets represent 73.4% of the value and 72.6% of the total volume of global wine imports made year-on-year until June 2023, with 7,457.4 million liters (-2.7%) and €27,637.4 million (+4%). Regarding the average of the world, they fell below the number and rose to a greater amount of value, so their evolution is better.
In absolute terms, wine purchases from the 13 main world markets analyzed decreased by 208.3 million liters and increased by € 1,065.1 million because the average price of purchase increased by 7% to € 3.71 per liter (+24 cents). This average price is slightly higher than the world average, which at this time is €3.66/liter (+8.7%).