Here in Spain we will have to wait a bit longer, but the MG HS 2023 has already entered the British market and is about to arrive in European countries. We are talking about an SUV model that competes with the Hyundai Tucson, for example, as well as the Kia Sportage or Volkswagen Tiguan, but costs only 21,790 euros. Which is to say, it's around 6,000 euros cheaper than the Hyundai Tucson, despite having very similar features and much more complete standard equipment. As we say, it has just been refurbished, we have new pictures and data, and very soon it will also arrive in Spain.
The MG HS is a 4.57 meter long SUV, so it really rivals the Hyundai Tucson, KIA Sportage, Volkswagen Tiguan or the SEAT Ateca, which are sold in the compact SUV segment today. It is a larger model than the MG ZS and is available with a conventional gasoline engine and a plug-in hybrid version called the MG EHS. Well, with the gasoline engine it's around 6,000 euros cheaper than alternatives like the Hyundai Tucson, and with the plug-in hybrid engine it's around 7,000 euros cheaper than the PHEV versions of the Tucson and its similar rivals. And now, with this update coming called MG HS 2023, it has better design, better features and even more complete equipment.
Key to MG HS 2023, the bargain among compact SUVs is now even better across all levels
The 2023 MG HS now features a new bumper and new LED headlights with a clearly sportier and more aggressive design. It has a more modern 'look' and its grille has also grown and changed its aesthetics. At the rear, the bumper has changed, it gets new LED optics and it also sports a double exhaust outlet. Of course, as a restyling, it also ushered in new body colors and new 18-inch alloy wheels. But it is also that there has been improvement inside it too, especially at the level of technology.
It was already cheap and complete, especially in equipment. But it is that now, although it retains the 10.1-inch diagonal multimedia screen, it launches new software that is much more advanced. And it comes standard with air conditioning, rear view camera and parking sensors, GPS navigation system, rain and lighting sensors, keyless entry and start and more. That is to say that although the MG HS 2023 is a fairly affordable car as compared to its rivals, it comes with a more complete set of equipment than usual.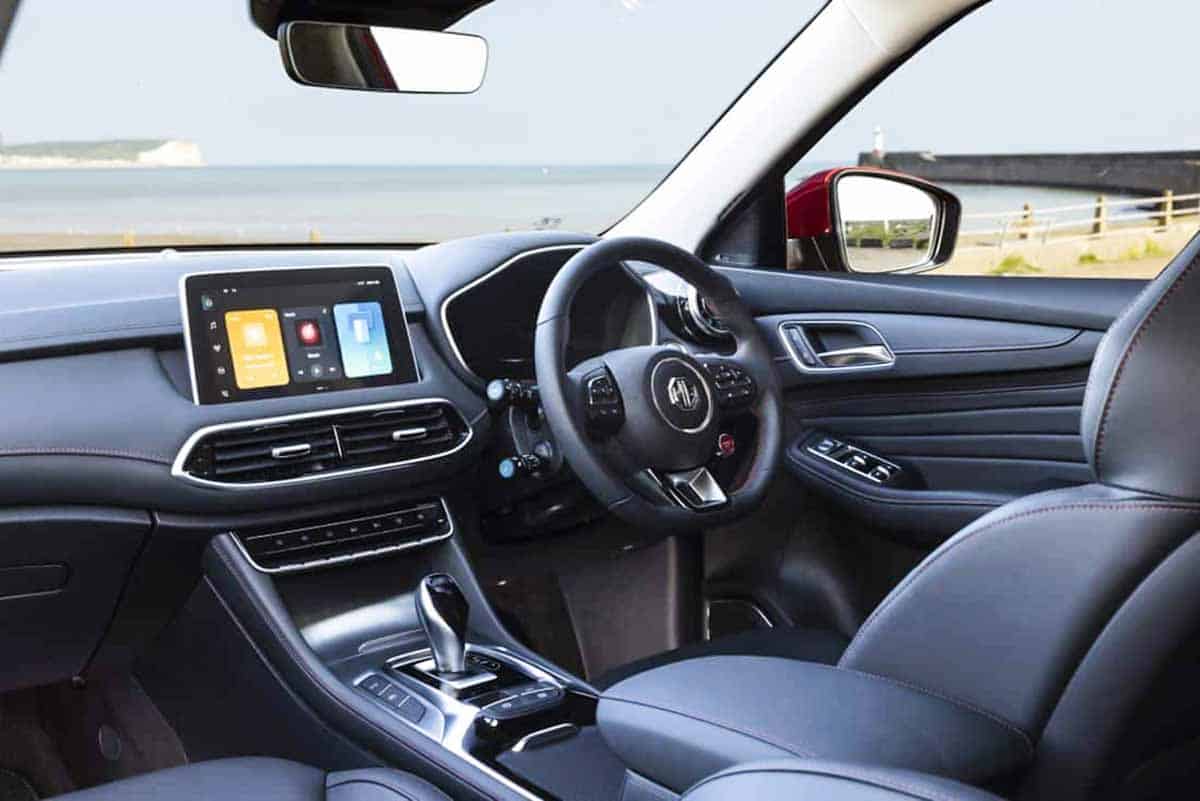 There is a 1.5-litre turbocharged gasoline engine with a maximum power of 160 HP that reaches peak torque of 250 Nm. A very correct mechanics, although it would have been ideal if it had mild hybrid technology labeled DGT ECO, and which is mated to a standard six-speed manual transmission. Also, as part of the optional equipment, you can choose a seven-speed automatic transmission. And although it doesn't feature mild hybrid technology, the range has the option of the MG EHS 2023, which has a direct plug-in hybrid engine. Of course, the best option, although it is also much more expensive.
As of now, the MG ZS has been among the top 10 best selling cars in Spain since last April. The brand is gaining popularity in our country and without any doubt this new MG HS 2023 should help in increasing its sales. It's a great unknown, but it's an alternative to the Hyundai Tucson and the rest of the compact SUV models, with excellent features and an unbeatable price.