MANHATTEN, New York. The latest protest against the introduction of the COVID-19 vaccine in New York took place on Saturday afternoon in Central Park.
It was the most organized of all protests so far, with coffee and food stalls, live music and candlelight vigils at the end of their march.
The police were also more organized, with at least 250 NYPD officers and approximately 100 police vehicles deployed, monitoring rally entrances and guiding the crowd.
A fence was erected at the gathering point for the protesters, and sergeants worked to move people, preventing protesters from sitting on benches (except for the elderly) and restricting access to other aisles.
From noon to 1:00 pm, the crowd was limited, but by 3:30 pm, an estimated several thousand people had gathered.
Firefighter Matt Connor of Bravest for Choice magazine said his decision to challenge COVID-19 vaccine demands came after Mayor Bill de Blasio announced his Key to New York campaign in August. Connor said that since then, he has witnessed the violence and discord that has ravaged great New York.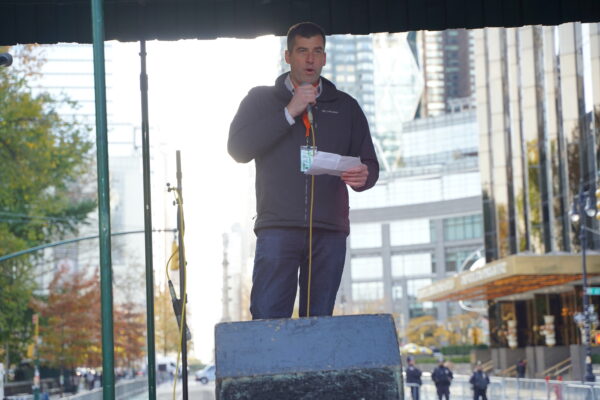 "His influence can be felt in our day-to-day interactions as New Yorkers, and I, for one, miss the way things were," he told the crowd.
"The ideal is at stake as such. The indiscriminate use of pharmaceutical injections without regard for informed consent is as far from freedom as I can imagine. She has no place on our shores. "
Connor has worked for over 16 years as a firefighter in New York and was emotional when he gave his speech.
"Now I am facing a mandatory pharmaceutical injection without my consent as … the term of my further work. This is especially offensive to me.
"The first respondents [of] this city has revitalized, we were there for you, "he said of his work in the early stages of the pandemic, before the vaccine was available. "And I know that you are here for us," he said.
Kevin Jenkins, whose views have been described as "disinformation" in some media reports, also spoke at the protest.
"Yesterday I showed something about the Nuremberg Code on my Instagram page," he said. "And guess what they said – it was disinformation."
"Now, I guess I stand here as a black man and say that we have to fight for our flag, fight for freedom, fight for our family, fight for our country. I think they [sic] I'm going to say I'm a white supremacist, "he said of the media.
Another speaker was Hatt. Tricia Lindsay.
"If we do not continue this struggle, civil and constitutional rights will be a thing of the past. It will be as if he has never been in this country. We must keep fighting, we must keep fighting, "she said.
The noisy crowd then walked about 60 blocks into the late night to Foley Square, where they held a candlelit vigil and sang songs glorifying unity and freedom.
"We humans will not obey!" and "Wake up New York!" were their slogans.
Many passers-by were impressed by the size of the march. They stood, watched, wrote, while some others from time to time shouted negative words at them.
…