Character, personality, history and geographical location. If there's one word that comes close to Miami, it's generosity, an eclecticism that continues to expand and diversify. Clean, wide and extremely warm beaches with indescribable sunsets, endless options for having fun at night, first class entertainment, as well as an extensive list of places and places to enjoy an art or aesthetic experience, make it one of the world's epics. One of the more desired and attractive in the world.
Furthermore, its Latin American presence makes it nurturing and complex in such a way that the crossings and blends of flavors and cultures are naturally assimilated today. Today, the best Cuban, Puerto Rican, Venezuelan or Colombian food can be found in a more advanced format and also promoted outside of its original location in Miami.
Recognized for being a city in constant change, the improvement of its artistic and cultural ecosystem has made it an important destination for contemporary art since the late 1990s. It is not for nothing that the arrival of Art Basel, one of the world's most important art fairs, in 2022 celebrates its two decades of existence in Miami, which some have called the "Latin diaspora".
In this sense, the end of the year in the city promises a dynamism nurtured by choices and choices to fully enjoy this jewel of South Florida. If Art Basel or any other reason is calling you Miami in the first days of December but you still haven't decided what to do, visit, visit or try, here we share some options that There are "other art" of Miami. take note.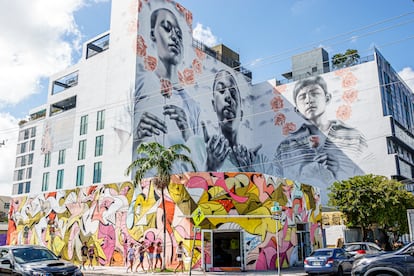 In keeping with Art Basel's three days, from Thursday, December 1 to Saturday, December 3, 2022, these 8 options will complement a minimum stay of a maximum of five days and address as much character, personality and charm as possible. which is recognized by Miami.
If we extend our trip by 2 days, we have more places to visit in Miami. Among them, the Ocean Drive neighborhood, which has a lot of atmosphere and is characterized by its Art Deco-style buildings that were built in the mid-20th century. We can also opt for urban art by visiting the Wynwood neighborhood, which has a large number of art galleries and a park with hero graffiti on its walls. If we want to do some shopping, Bayside and Lincoln Road are good places to do it, thanks to their many shops.
1. A Hispanic-Fusion Dish
Miami is the perfect choice for getting a taste of the Hispanic evolution of food. From street food to the most iconic restaurants, the city has the eclecticism and open-mindedness to assimilate and engage in culinary dialogue with other cultures.
Try the repurposed braised beef ribs from the heart of Cuba at Café La Trova (one of the 50 Best Bars in the World). Craving something more adventurous? Grab some light and crispy cauliflower fries drizzled with truffle almond Parmesan sauce, or order a spicy watermelon tuna roll at Planta South Beach; How about enticing some of the delicious and distinctive caipirinhas already prepared at your table at El Bazar, the renowned restaurant of the iconic Michelin star Chef Jose Andrés. Every corner is a dish, but you'll without a doubt find the most amazing side of food in South Beach.
2.Key Biscayne
Heaven within another. Key Biscayne or Key Biscayne is an island located south of Miami Beach between the bay of the same name and the Atlantic Ocean. In addition to the possibility to bathe and enjoy its calm waters, on this island you can do a little snorkeling, visit its famous lighthouse and explore two natural parks filled with high-end magic: Crandon Park and Bill Baggs Cape Florida State Park.
3. Botanical Garden
In Miami, the influence of botanical explorations of the past at the hands of some European celebrities is more alive than ever, whether through their experiments as cocktails, gardens or the local fragrance industry. The iconic Fairchild Tropical Botanical Garden is an example of this, and in it you can explore over 33 hectares of gardens with all kinds of exotic plants and trees, established in 1938 by the famous David Fairchild.
4. Winwood
In addition to its wide array of galleries, events, and museums surrounding contemporary art, every visit to Miami, whether one with artistic interests or not, certainly points to one of Miami's favorite neighborhoods: Wynwood, an area which is composed mostly of industrial warehouses and with an apparently wild atmosphere, but it explodes before taking a closer look at a large-format public gallery.
It is also the liveliest area in Miami because, in addition to having a museum that changes every month, you can also enjoy its restaurants, shops, art galleries, and street food stalls. The spirit of Miami is centered in this essential stop.
5. Ocean Drive
If you are a fan of architecture and especially Art Deco, the artistic movement that emerged in the 1920s, then Ocean Drive is something you must visit at least once in your life. Construction in the form of cubes, spheres and straight lines, roof moldings, tropical colors and pastel tones and neon signs are all part of the "color" of Florida's coolest city today.
A 90-minute trip between 6th and 7th Streets at the southern end of Ocean Drive will be enough to see the iconic Park Central Hotel, the Colony Hotel, the Waldorf Towers Hotel, the Art Deco District Welcome Center, the famous Carlyle Hotel, and the famous Carlyle Hotel. McAlpine Hotel, among others.
6. Little Havana
The Hispanic population in Miami is among the largest in the entire United States and Cubans lead the presence in the Florida city. Not for nothing, the Latin neighborhood called Little Havana, Calle Ocho is the perfect place to step down and try a good Cuban sandwich, buy a cigar or watch how people gather to play dominoes. Obviously mojitos are first order and street celebrations are frequent, loud and smiling.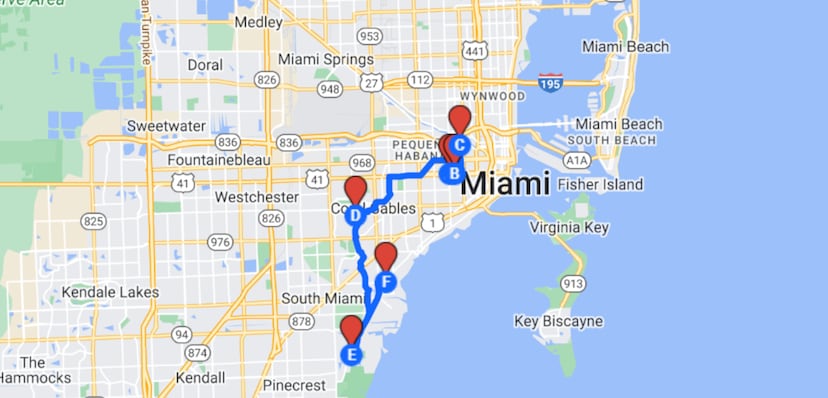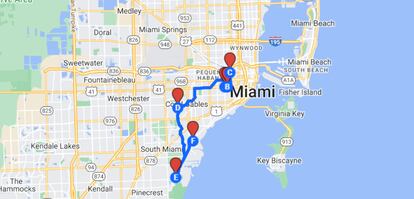 7. Tomorrowland
Miami is one of the few places in the world that design lovers with a neighborhood where artistic, technological and functional interests merge. In the case of Tomorrowland, we're talking about a physical and virtual installation made up of an array of sculptures, seats and ornamentation that focuses on assembling and digitally personalizing totem poles throughout the neighborhood. A jewel of an already prestigious design district.
8. Beach
Last but not least, we have one of Miami's important characters, its beaches. South Beach is a must-see destination, always full of people and style, the perfect tan, luxury and beauty under the rays of the sun. Sunny Isles, Lumus, Surfside and Hollower Beach Parks are the jewel in the crown, if you're looking for something more central that includes a nudist area.
Good weather and mobility? Visiting the Florida Keys is a must for a trip to Key West, as it's a roughly eight-hour trip that's totally worth it: ocean, sand, and unique landscapes of its kind. Enjoy a trip that will make you feel like you are walking in the ocean all the time.