Toyota continues its commitment to hydrogen vehicles and has just unveiled a prototype of it Toyota Hilux equipped with a hydrogen fuel cell. A debut intended to be further evidence of the broad spectrum of Toyota's multi-directional strategy to achieve zero-emission mobility.
And unlike virtually all other car companies, Toyota has chosen to diversify its technology portfolio with different powertrain solutions (Hybrid, plug-in hybrid, battery electric and fuel cell electric). Everything to meet the different needs of users and operating environments around the world.
His latest work is a version of the famous Hilux pickup. This electric version was unveiled at Toyota's vehicle plant in Derby, UK, where it was developed in a joint project with consortium partners, supported by UK Government funding.
The Hilux name is a worldwide icon of the Toyota brand and stands for exceptional reliability and durability. The development project investigated how these qualities can be maintained through the introduction of a new emission-free fuel cell electric drive.
The new powertrain uses core elements from the Toyota Mirai, a technology that has been proven in almost ten years of commercial production. During operation, the fuel cell produces no more exhaust gases than pure water.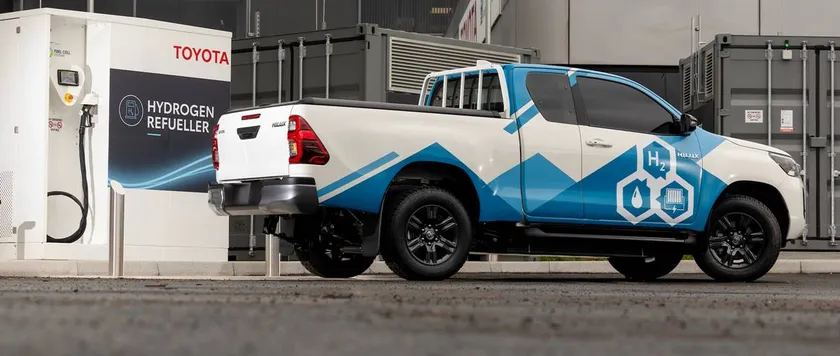 Hydrogen is stored in three high-pressure fuel tanks, providing the Hilux Concept an expected range of more than 600 km. The hybrid battery, which stores the electricity generated by the onboard fuel cell, is housed in the rear cargo area, avoiding wasted space in the cabin.
Construction of the prototype began on June 5 this year and was carried out according to the principles of the Toyota Production System in a dedicated area within the TMUK facility. The first vehicle was completed just three weeks later, the first of ten vehicles to be built later this year. These undergo rigorous testing to ensure safety, dynamic performance, functionality and durability meet the high standards expected of a production model.
A model that will not be launched at the moment and that could be placed in a niche market for industries that need a truck with long range and shorter refueling times.