One of three groups of truckers and "Freedom Escort" supporters from Quebec East left on Friday from the U.S. border south of Montreal, about 50 vehicles headed to the VanClick Hill meeting point on Friday evening and then continued to Ottawa on Saturday .
Truck drivers and their supporters mobilized across Canada after the government introduced a mandate in mid-January to vaccinate truck drivers crossing the US border. Thousands of truckers are heading to Ottawa for a massive protest calling for the lifting of all COVID-19 related restrictions.
So far, many Canadian flags have been seen on trucks and waved by supporters across the country. An equal number of Quebec flags could be seen on Quebec trucks, but for any flag, many were flown or raised upside down in displeasure or to signal distress to the nation.
Some participants were unhappy with the way they were portrayed by some politicians and the media, claiming that the movement was made up of people with bigoted views or seeking to resort to violence. message.
"We support each other. We are not racists, we are here for freedom, end of story," said Eric Perras, who has worked as a truck driver for 19 years.
"What we're going through is not fun at all, and it's not just about the trucker. It's a matter of freedom.
"We were free. They took away our freedom, they made us vaccinate, it's not right. We want to live like before and keep the freedoms we had. We will not pay for this, but our children and grandchildren. It will be much worse for them than for us."
Perras said he is not personally affected by the trucker vaccination mandate, but is involved in the "for all" efforts.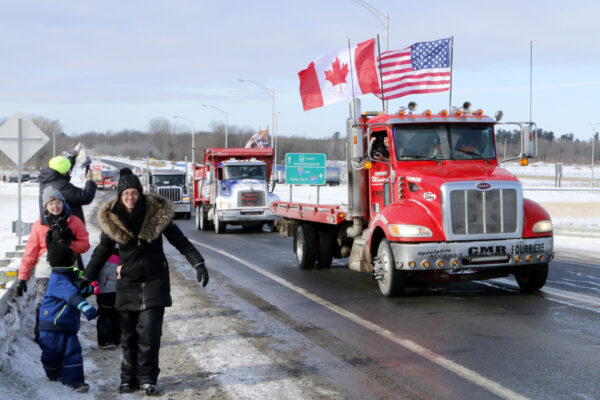 Luc Leblanc, a truck driver who has been on the road for 22 years, was also not happy with some of the media reports.
"It's not what people say that matters, but what we experience," he said, adding that those who try to destroy what truckers do may eventually be held accountable.
"I am here as a sign of support, solidarity and freedom. This is not an anti-vaccination event, I have been vaccinated three times. It's for measures and everything we're going through right now."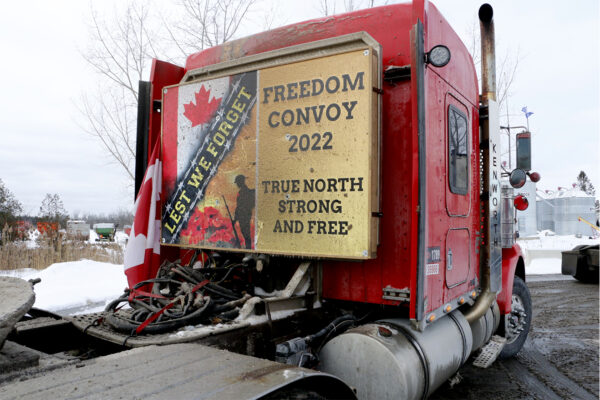 One of the supporters at the meeting place was Suzanne Richard, who held the green-white-red flag of the patriots of Quebec – participants in the uprising against colonial rule in 1837-1838.
"I'm 73 and I stopped working at 72, so this healthcare system, I paid for it. However, I am being ostracized for refusing their genetic testing. I want my rights, my rights to go wherever I please," she said.
"It's such a relief [to see truckers take a stand]. Two years have passed, the government is dealing with my case along with the media, which do not say anything and hide the truth."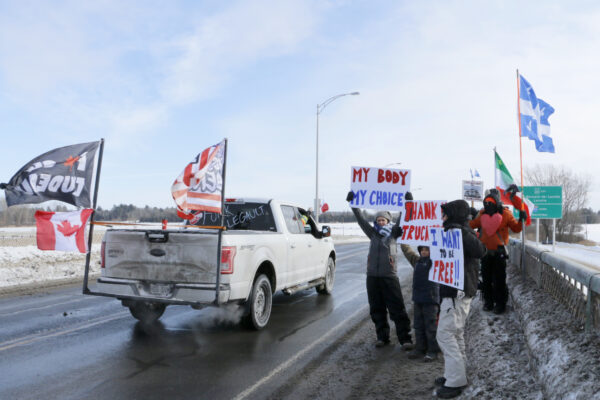 Melissa Reynolds, another supporter, stood by the road with a sign. "I'm here to support the many brave Canadians who are saying 'Enough is enough'," she said.
"When we're at the point where you can't shop at Walmart or Costco without showing a medical certificate of vaccination, it's gone too far."
Reynolds said the issue is not about being vaccinated or not being vaccinated, "it's about having your basic freedom, autonomy over your own body."
"The government has no right to impose on you what you put into your body."
.