Editorial Portal by Portuario
@portalportuario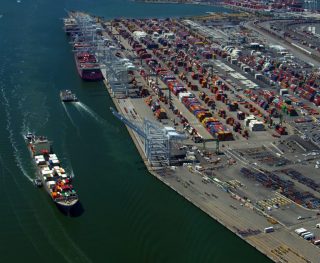 The Oakland Board of Port Commissioners approved an ordinance to incorporate green upgrades to cargo handling equipment at the TRAPACK facility at one of the terminals at the Port of Oakland.
In that sense, the port commissioners voted unanimously to extend the lease agreement to the operator of TraPac Terminal to reduce emissions from the machines used in operating the facility.
In this context, Brian Brandes, the port's Director of Marine, said that "we appreciate the fact that our lessee, Trapac, is cooperating with us in the large investments required to implement these significant changes to cargo handling equipment "
In particular, the company will modernize three gantry cranes (RTGs) with tyres, converting them from diesel fuel to hybrids, with the aim of reducing the emissions of this equipment by 95%, which is expected by the end of 2024. Is.
For his part, Danny Wan, the port's executive director, indicated that "we have several projects underway that are modernizing the port and turning the Port of Oakland into a center of innovation with zero emissions."
Meanwhile, the Port of Oakland will reimburse TraPac up to $945,000 for the cost of the RTG upgrade. While the company will only finance the cost of the four new Hybrid RTGs.
It's worth noting that this is the first time a terminal operator has been called upon in the Port of Oakland lease agreement to upgrade cargo handling equipment to significantly reduce emissions.