Expansion
The state government on Sunday transferred 11 IPS officers. These include a DG and three ADGs and other SP level officers. The special thing is that BK Maurya, who was ADG Logistics for four years, has been re-deployed there as Director General of Police (DG). ADG Maurya is posted in this post since September-2018. Meanwhile, on October 1, 2021, he was promoted to the post of DG, but he continued to look after the work of ADG.
Similarly, Mohit Agarwal, who got posted as IG Technical Services, has also been made ADG Technical Services. According to the transfer order issued by ADG Personnel Raja Srivastava, ADG Anupam Kulshrestha, who has been waiting since his return from central deputation, has been made ADG Traffic and Road Safety. ADG Bhajani Ram Meena posted in PAC East Zone Prayagraj has now been made ADG Rules and Manual.
Apart from this, Shafiq Ahmed, Superintendent of Police, PTC Sitapur, has been made waiting, while Radhe Mohan Bhardwaj has been made General of 28th Corps Moradabad from SP PTS Jalaun. Shalini, posted in the post of Commander in 23rd Corps Moradabad, has been made General of 41st Corps PAC in Ghaziabad. Surrounded by investigation Himanshu Kumar has been shifted from 28th Corps PAC Etawah to 23rd Corps PAC Moradabad.
Kunwar Anupam is the new SP of Kannauj

Kunwar Anupam Singh has been made the new superintendent of police in place of Rajesh Kumar Srivastava, who was removed after the Kannauj incident. Anupam was till now posted as SP Vigilance Lucknow. While Rajesh Kumar Srivastava has been made waiting.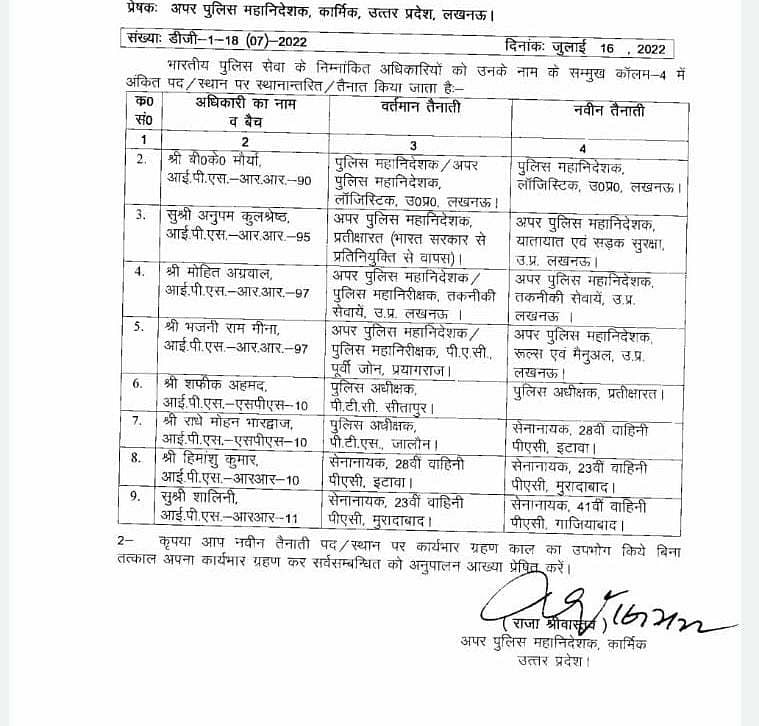 IAS officers transfer list