Experts warn that the United States is vulnerable to an electromagnetic pulse (EMP) attack from adversaries such as China and North Korea, which could render the country helpless and disable major components such as military communications, water delivery systems, food and transportation. …
Speaking on Tuesday at a virtual forum hosted by the Federation for World Peace, experts stressed that it takes little time to invest in defending a country from such an attack and called on officials to take action.
While the EMP attack itself is not fatal, it can destroy most of the electronics in a huge radius and disable the power grid, sending the country back to the 18th century and into a complete and prolonged power outage. This could lead to the death of 90 percent of the US population, warn experts from the US Congressional EMP Commission.
Such a catastrophic scenario could be triggered by an EMP attack from China, which already has "super EMPs" that could cause "massive, deep damage," according to an analysis by the National and Homeland Security Task Force, a Congressional advisory board.
China reportedly tested a new hypersonic gliding device (HGV) in August that could deploy EMP, showcasing its incredibly advanced space capabilities and making experts fear it could destabilize the United States.
American intelligence agencies were allegedly caught off guard by the August event and the actions of the truck, according to The Financial Times.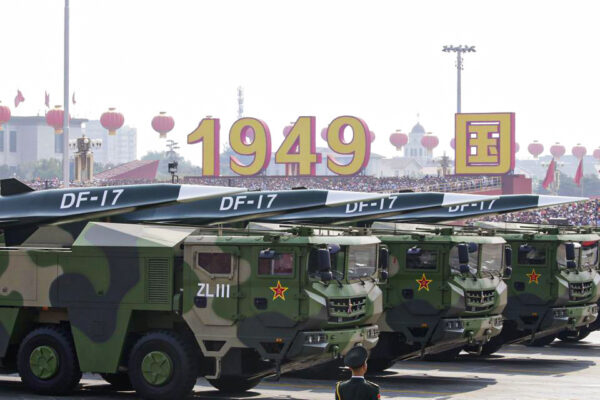 "This poses a real threat to the possibility of winning the war in one hit with an EMP attack," Peter Vincent Pry, executive director of the National and Homeland Security Task Force, said Tuesday. "Moreover … they do not intend to use EMP by itself. It will be used in conjunction with cyberattacks and physical sabotage, as well as non-nuclear EMP. "
"This is viewed by Russia, China, North Korea and Iran as potentially the most decisive military revolution in history," Pry said. "By attacking the technological Achilles heel of a nation like the United States, you could bring us to our knees without even having to fight the Marines, the Navy or the Air Force, and win the war in 24 hours with one strike – combined EMP cyberattack ".
Former President Donald Trump issued an executive order on March 26, 2019, protecting America's critical infrastructure from EMP attacks. A key part of the executive order was an implementation section entitled "Strengthening Critical Infrastructure to Resist the Impact of the EMP," which called for concrete action to be taken to strengthen America's critical infrastructure.
However, since the decree was issued, the Department of Energy (DOE) and the Department of Homeland Security (DHS) have done nothing to protect the national power grid or other critical infrastructures on which 330 million Americans depend. …
As recently as May of this year, Senator Ron Johnson (Rhode Wisconsin) called for enhanced measures to protect the power grid from threats posed by EMP disruptions, nuclear weapons and GMD geomagnetic disturbances such as solar storms, noting that the recent Colonial Pipeline cyberattack and the subsequent closures exposed "existential" vulnerabilities in the US fuel and power grid.
"We're very vulnerable," Johnson said, calling for further investments to improve network resiliency. "We are spending all of these trillions of dollars on infrastructure, let us spend a couple billion before buying spare large power transformers in case there is an EMP or GMD problem with our grid."
The executive director of the Homeland and Homeland Security Task Force on Tuesday cited federal bureaucracy and other factors to explain why little has been done to strengthen the protection of the U.S. electrical grid.
"We know how to protect ourselves from this. This is not a technological problem. This is a political issue, "Pry said.
The experts also pointed to North Korea, which it said does not need advanced military capabilities to cause serious and long-term damage to the United States using EMP technology.
"No need for precision. North Korea doesn't need a very good ballistic missile to accurately deploy and detonate a weapon, "said Plamen Doinov, professor at the University of Missouri in Kansas City and CTO at EMP Shield.
"There are active protective measures that, for example, ground the impulse when it enters the car's electrical system. The good news is that these technologies already exist, they exist, "said David Winks, managing director of AcquSight, a leading cyber, physical and electromagnetic resilience firm. "I think it would be nice to use some of that money for infrastructure to start investing in this."
…