Rosa Rodríguez, Eliécer Romero, José Díaz, Anthony Montero and Christian Sarco won the medals.
Venezuela had a great day at the Santiago 2023 Pan American Games, achieving five medals, by far the most productive day so far in the competition.
There were three silver and two bronze medals achieved by Creole athletes in athletics, fencing and wrestling.
The first silver medal came from Rosa Rodríguez in the hammer throw, when she reached a mark of 71.59 centimeters. Gold went to North American Price.
This is the third Pan American Games medal for the experienced athlete who continues to fight to qualify for the Paris 2024 Olympic Games.
Fencing gave the second medal, thanks to Eliécer Romero in the individual saber modality, after losing to Andrew Doddo of the United States 15-12.
In the semifinal he defeated Fares Árca from Canada 15-12 and therefore entered the definition of gold.
The third silver is in wrestling, with José Díaz, 125 kg category.
The Venezuelan lost in the final against American Mason Parris 2-0.
#AsiOcurrio | El desenvolvimiento de nuestra atleta en lanzamiento de martillo que la hizo merecedora del podium panamericano de @santiago2023#SomosPresenreYFuturo#Hoy pic.twitter.com/K4ZAQ9N8Ee

— Juventud y Deporte (@juventudydep) November 1, 2023
Wrestling gave other medals, they were at 97 kilos from the hand of Christian Sarco when he defeated his opponent from Chile 10-0 through technical superiority.
Also at 74 kilos with Anthony Montero by defeating a Mexican with a score of 7-2.
Yoveinny Mota came in fifth place in the final of the 100 meter hurdles.
Basketball wins
Venezuela won this Wednesday in the second match of Santiago 2023.
Those led by Daniel Seoane overcame a deficit of nine points in the second half and seven points in overtime to get a 92-90 victory over the Dominican Republic.
The start of the last quarter was favorable for the Dominican led by Néstor "Che" García.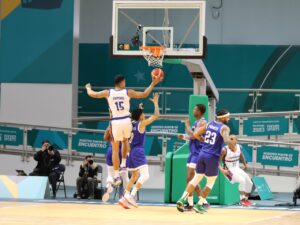 Néstor Colmenares and Garly Sojo led with 21 points. Sojo completed his great scoring game with 10 rebounds and four assists, also leading Venezuela in these statistics.
José Ascanio (18) and Edwin Mijares (14) were able to join Colmenares and Sojo as national players with double digits in scoring.
For the Dominican Republic standouts are Jassel Perez (22 pts, 4 reb), Juan Guerrero (20 pts, 8 reb), Juan Suero (16 pts, 6 reb) and Gelvis Solano (11 pts).
Venezuela (1-1) will end their participation in the group stage of the Santiago 2023 Pan American Games at noon this Thursday when they face Panama (0-2).