We use them to share passwords, get contact information, view a restaurant menu, pay, access a website, view pictures, and more. QR codes have been standardized for years and are very well received due to their ease of use. Today, in most cases, all you have to do is open the smartphone camera and focus on the reader to access the content registered in that small square icon.
Its acronym QR corresponds to the expression in English quick response, and it is an evolution of traditional barcodes, which were first patented in 1952, although they were not used until 1966, 57 years ago. The first QR code was created almost three decades ago, in 1994.
Denso Wave, a Japanese company specializing in the manufacture of vehicle components, was the inventor of QR codes. It is a subsidiary of Toyota. They developed the QR code with the aim of to trackrts in the supply chain, similar to how UPS tracks its packages.
The technology of Quick Response is based on the MaxiCodea system developed by the United Parcel Service (UPS) in 1992 and was intended to allow more data to be stored and be easier to read.
The QR code was created by Japanese engineer Masahiro Hara, who was looking for an alternative to the many limitations of barcodes. The latter, for example, stores very littlestores, so employees have to scan several barcodes in a row to get complete information. After several investigations, Hara determined that the ideal format of the QR code and the format required for machine recognition were in a ratio of 1:1:3:1:1*. This allowed scanners to read the label in any direction.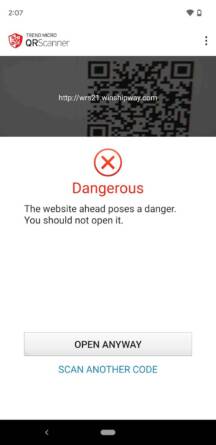 In addition, patterns were designed for the correct functioning of the QR code, which is still indispeisble today. One of these is the alignment pattern used to determine position. They also have a troubleshooting code. This allows scanners to read the code correctly when something is obscured or damaged.
Use your QR
Since the banking process has started in Cuba, it is only a matter of time before QRs become one of the most widely adopted standards. Because when we use our payment gateways, Transfermóvil and EnZona, it's really easy to scan a code to make a payment.
For example, the process of making a cash transfer is greatly simplified with a QR. How does it go? In Transfermóvil, access the side menu (the three horizontal bars in the top left corner) and look for the "My Accounts" section in the "Banks" section. On this screen, you can enter a card or bank account in a few steps; at the end, the + symbol will appear. Fill in the fields, and they will be saved.
The card is registered with the "alias" that you specify when filling in the data. Touching the card reveals more buttons, below which you can spot the distinctive QR. Clicking on this icon will bring up the code that can be scanned by someone else and complete the transfer in a few steps.
Always safe
QR codes are safe when created for harmless purposes, but they can also hide traps.
When scanning a QR code, caution is advised at first. Consider that the QR is properly located and identified in commercial establishments, especially when processing payments.
If the QR is a different one, for example, pasted on a piece of paper in a post, before accessing it, check that the link is readable and that the web address it points to is not suspicious.
Equally important is to prefer using links that contain https in the address and not the insecure http. Although in Cuba, for various reasons, one can still find official services on HTTP, this is an open problem that cannot be postponed by the competent authorities, especially in times of balkanizationion.
Applications to use QR
Modern smartphones with Android and iOS operating systems integrate a QR code reader into their cameras as standard. Just bring them close to one of these, and it will activate.
However, some models have custom Android skins; like many Xiaomi smart phones, which are widespread in Cuba, they don't get them from the factory. In the case of this brand, one of their tools is an application for reading QR codes.
If you own a different brand of mobile phone and don't have a code reader, go to the Google Play Store and type QR in the search box. The results are varied. For example, trade publications recommend Trend Micro's QR scanner, an application that not only reads codes but also analyzes them to find out if the links are safe.
How to create a QR
In addition to the QR codes that payment gateways generate and that can be used by business owners for electronic debt collection procedures, there are online tools that make it easy to do this if you need to create one for a different purpose.
Sites like es.qr-code-generator.com, www.qrcode-monkey.com, and goqr. me enable the ge Iration of a personalized QR code, which can be used to share links, text, or images with just a few clicks.
As you can see, the QR code is crucial in the digital age, and its versatility can be widely used to make life easier.