Humans are amazing and their communication skills are increasing. They go on and on as the years go by, but We can't forget our origin, Because that's what separates us from the apes.
In the academic world they disagree, because although they know that the language arose thousands of years before writing, they cannot determine the exact date. it is believed that Language can be from 50,000 years to 50 million years.
This is the most characteristic element of our species in relation to the apes and there are a physical attribute that may be the key to determine it.
Thus, like humans, all kinds of languages ​​in the world come from a common ancestorBecause man and his ability to communicate are a reality that goes hand in hand.
ability to make sounds and gestures Yes it has been seen in our ancestors and apes, but it has nothing to do with language.
How did our ancestors learn to speak?
According to Robert Foley, an anthropologist from Cambridge, in an interview with the BBC, he said importance of breathing When it comes to communication, we have to control our diaphragm to make sound while speaking.
This is a fundamental difference between humans and apes, our closest ancestors, because our The spine is thick and the spine is also wide.
Thus, with respect to apes, science traces this genetic variation 600,000 years ago in NeanderthalsBut there is no presence in Homo erectus from a million years ago.
So the key to our communication is, Control our breathing. Although this clue is necessary for the timely detection of the germ of language, we have to consider other factors beyond this physical adaptation, as a fluid communication would be impossible without them.
According to an article published in Trends in Cognitive Science, cognitive prior adaptation, We speak, for example, about being able to direct one's gaze or attention to a person or object, remember sequences of sounds and learn information in a hierarchical manner. Without these evolved characteristics, language among our ancestors would not have been possible.
If language, therefore, emerged 600,000 years ago, we would be talking about the Stone Age and have a question that echoes in our heads: How did our ancestors communicate 3 million years ago?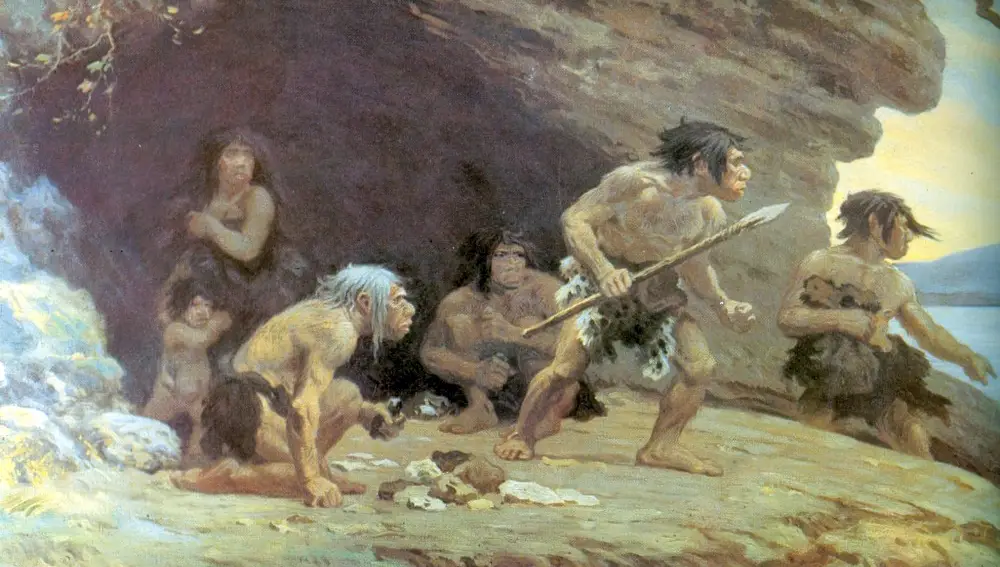 Stone Age and the Origin of Language
stone Age It began about three million years ago, according to scholars in the region, and ended 40,000 years ago. This era stands out for a number of things, among them, that it created the . saw the origin ofL. Homo erectus, Neanderthal and Homo sapiens (which appeared 200,000 years ago).
According to Mark Pagel, a professor of biological evolution at The Conversation, our ancestors were straight apes without the ability to speak, but they did communicate. Still we can't forget him We are not the only species capable of communicating with our own "language".
so, we have toE distinguishes between having the ability to articulate sounds and knowing how to speak, Because although they are forms of communication, they are not the same. Gradually we moved from sounds to words and this process happened in the Stone Age.
Science tells us that, according to our genetics, we come from a small population in Africa and this was when its evolution began. first language, The idea of ​​other languages ​​emerging in parallel is not ruled out, as we were not all in the same area.