Bitcoin price consolidates at $19,000 as bulls repair their technical structure.
A symmetrical triangle pattern is signaling a 10% upside breakout at $20,915 on the 8-hours chart.
The impending bitcoin price breakout could be delayed due to low trading volume on Sunday.
Bitcoin price nears $19,000 as it gathers liquidity for its next move. The week has been marred by challenging external forces from the UK's Bank of England (BOE) and the US Federal Reserve (Fed).
Interest rates were subsequently raised to 0.75%, and Fed Chairman Jerome Powell reiterated that inflation must be fought. Although the Bank of England announced some less strict measures, its 0.50% increase led to interest rates reaching their highest level in 14 years.
The price of bitcoin and the cryptocurrency market has plummeted as investors flee risky assets. In other words, there is not enough demand for BTC to rally despite analysts reporting a price bottom around $18,000.
Can traders profit off the price of bitcoin?
Bitcoin bulls have a tough task ahead: defending the $19,000 turning point. On the upside, a breakout is in sight after a symmetrical triangle pattern has formed. The upper descending trend line shows that sellers are unwilling to hedge against the price of bitcoin. However, the rising trend line of the pattern strengthens the presence of buyers in the market.
As the OBV (On Balance Volume) indicator shows, low trading volume means consolidation, and a triangle is synonymous with a breakout.
The MACD indicator on the same four-hour chart is showing a positive outlook. As the MACD approaches the midline, 10% of the bitcoin price will drop above the triangle. A move towards the positive zone (above the midline) would confirm a bullish result for BTC.
BTC/USD 4-hour chart
The IntoTheBlock (ITB) IOMAP chain model presents a contrasting perspective, as seen in the following graphic. As bitcoin price moves towards its triangle target of $20,915, it may find strong pressure coming from 1.09 million addresses that previously bought around 575,000 coins between $19,617 and $20,156.
bitcoin iomap model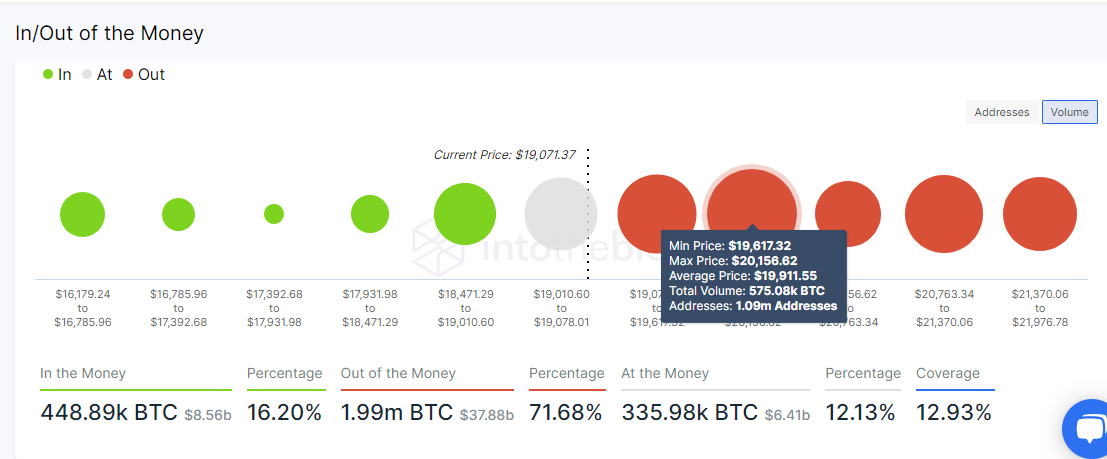 For a breakout of $20,915, bitcoin price must use this lull to take in enough liquidity to outperform potential sellers. Otherwise, recoveries above $20,000 would be a pipe dream and losses of up to $14,000.