Many women from Ciudad Guayana and the state of Bolívar walked for the day to fight breast cancer.
Under the motto "Touch yourself so that I do not touch you", full of enthusiasm, enthusiasm, and participation in the war of millions of women in Venezuela and the world, women from different social movements, missions, and large socialist missions toured the park.
Through a press release from the Government of Bolívar state, information was provided on the event that is being replicated throughout the country with the support of the Ministry for Women and Gender Equality, led by the minister, Diva Guzmán.
"The women of Bolívar have shown that together we can overcome all obstacles, and that strength lies in unity," said María Hurtado, a member of Parto Humanizado.
The Government of Bolívar in solidarity with the Bolívar Social Foundation, led by the first lady, Yajaira Arocha de Marcano, ensures the well-being and health of brave Bolívar women.
María Márquez, a teacher by vocation and profession, emphasized that from the first moment, Governor Ángel Marcano planned to protect gender in matters of nutrition, social matters, and, above all, health.
"We, the women of the country, are grateful to President Nicolás Maduro, who declared himself a feminist at heart; also with our worker governor and the mayor of the town of Caroní, Tito Oviedo," he added.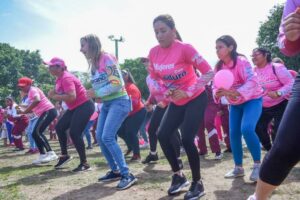 After the walk, the girls enjoyed a morning full of dance therapy, entertainment, and sports games.
"We not only celebrate the fight against this disease, but also the important role and value of women in society, and more than the Venezuelan women, who are described as fighters and full of strength to can be first," said Gisela. López, an active officer of the Bolivarian National Guard.