Mayor Tito Oviedo hopes that the remodeling done and the will of the vendors will be turned into a tourist market.
After the 3,400 square meters roof of the Unare market was installed as part of the comprehensive renovation of its facilities, the construction of the structure for the vaulted tent housing the informal vendors is now progressing.
Vegetables, fruits, chicken, meat, fish, clothes, shoes, household items and various products are sold outside the building by the vendors who were transferred in the process of reorganization of the city.
They went from the street to the parking lot of the market, authorities indicated in a press release.
The mayor of Caroní, Tito Oviedo, ordered the construction of a structure for them that, in addition to protecting them, would provide visibility to the Unare market.
"We want this market, which is the symbol of the city, to become a tourist market," he said, calling on vendors to put all their enthusiasm into this fact.
The Unare market is the subject of a progressive restoration of the municipality, with Obras Guayana at the helm and with the support of Governor Ángel Marcano, workers from Alcasa and Sidor.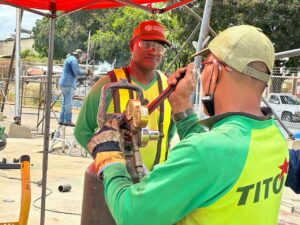 Its facilities are fully involved: New roof, wiring, lighting, drainage, restoration of the fish market area, flooring, construction of a garbage room, remodeling of the bathroom, parking improvements, fencing, gates, and beautification of all areas.
The work done to provide protection for the future economy is 70% complete and is estimated to be completed in three weeks.