The so-called "Dark Web" is an alternative network to the web that is known to the vast majority of people. Although the "dark" part refers to it being more difficult to track since special "software" is required to establish a connection, it has also been associated with the other meaning of the word since the beginning. And it so happens that the Dark Web is a criminal hotbed where hackers, hitmen, and human traffickers offer their services to the highest bidder.
One of the products that can often be found on the dark web is personal data, which is mostly obtained through hacking attacks or data leaks. It's also possible to find stolen accounts from services like Netflix for as little as two euros each. In short, the last thing you want is for your information to end up here when, frankly, it probably already is.
And it is that every day is getting harder You have complete control over our data. Every service we sign up for collects them. Therefore, it is possible for them to end up on the dark web if they are hacked or there is a problem with their infrastructure. Although security standards have greatly improved in recent years and important information is now often encrypted, this is still a problem.
Find your data on the Dark Web
Google's new tool can help us protect ourselves from the dark web, or at least know if we should take special measures. And it's the company, after all, that has launched its dark web monitoring tool in Spain, which is able to warn users when their data is leaked by strangers. In fact, this is not a new feature; It was presented together with the Google VPN, another important security measure in these times. However, the Dark Web Monitor was initially only available in the US, and that has changed. The first users are already receiving an email telling them that the new feature is already available in Spain.
To use dark web monitoring, We require a Google One subscription. Any plan at any price is valid as long as it is paid for. Therefore, the cheapest way to achieve this is with the Basic plan, which includes monitoring, 100GB of Google Drive storage, access to Google VPN, and exclusive features in Google apps like Google Photos.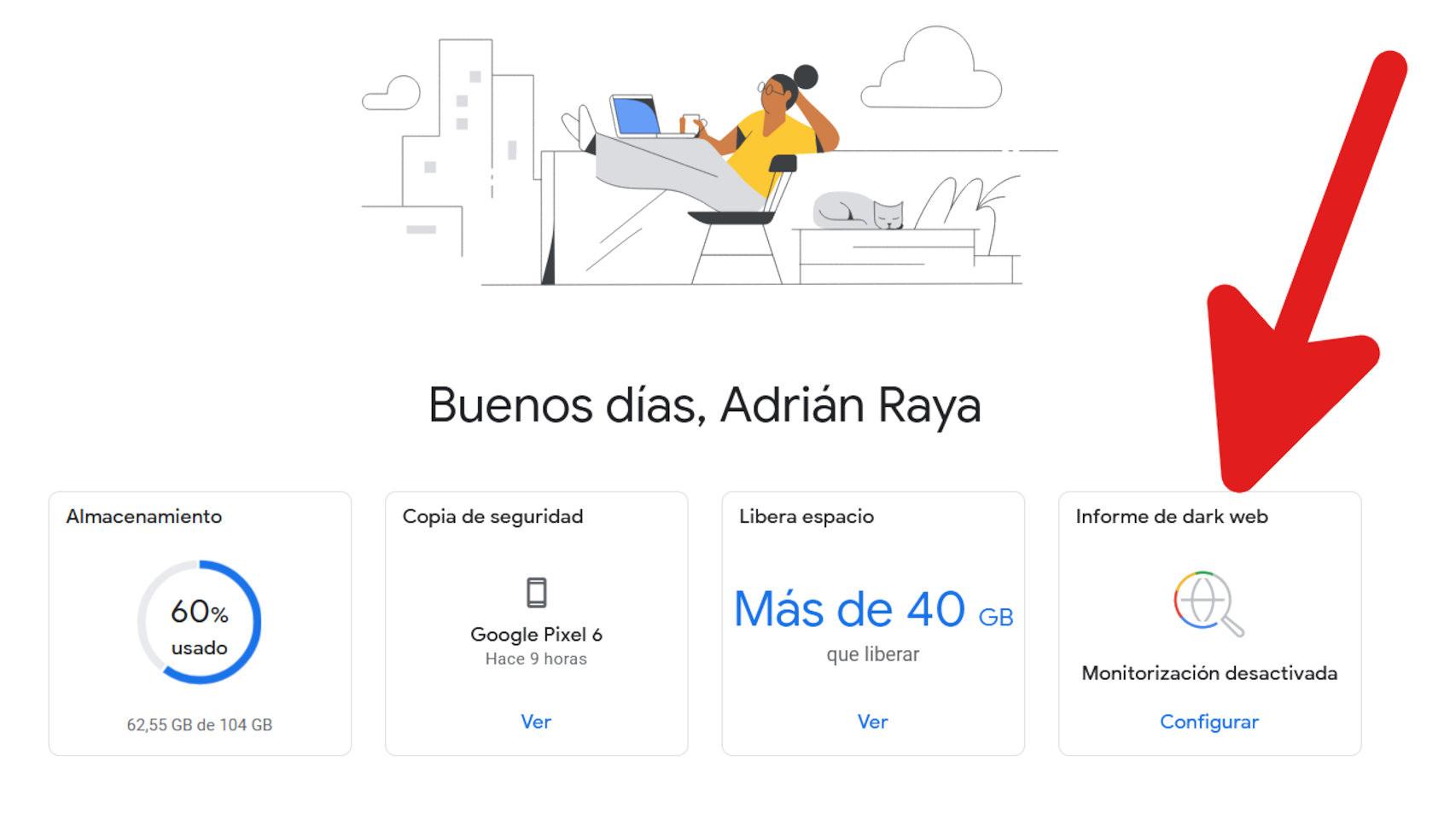 To activate this function, all we have to do is go to the Google One page or the official Android app. We will see a new section called "Dark Web Report," which is disabled by default. We just have to click "Configure" to tell Google what to search for.
Basically, this feature is for searching our data on the dark web to find possible data leaks where our information resides. We can configure the data that is checked, such as our email address, name, date of birth, or telephone number.
Once we have provided this data, Google will perform a first search on its database and indicate if it has found it. In addition, from this point on, Google will send us an email if our data is found on another website. We can see how many times our information has been leaked and the specific data. Based on this, you can make a decision, such as changing the password. At worst, a breach of personally identifiable information such as a phone number or date of birth can be used to steal our identity in banks and shops.