New Delhi- A group of young social entrepreneurs is trying to solve some of the relevant sanitation problems in India by building public toilets with materials that reduce carbon emissions.
Ashwini Agarwal, 31, was a student at the Delhi College of Art and Commerce when she built her first public toilet outside the All India Institute of Medical Sciences (AIIMS), one of India's largest public hospitals, in 2015. The hospital was adjacent to another major hospital, the Safdarjung, and the bus stops outside the hospitals were always crowded.
Since there were no public urinals, desperate travelers were relieving themselves on walls outside hospitals, posing a decency and health hazard.
Agarwal built prototypes of male public urinals using discarded water cans, which cost only Rs 200 ($2.50) per unit.
The innovation won Agarwal second prize in the category of sanitation and hygiene at The World Water Forum in Seoul in 2016 and earned him a seed fund of Rs 500,000 ($6,000).
"It gave me money to develop the design," said Agarwal in his small studio in the congested suburb of Narojini in New Delhi.
Inspired by the response to his innovation, Agarwal created a DIY video of the urinal for social media, which got him many questions from across India. His simple idea is of great importance for the world's second most populous country, which faces urban congestion and is in dire need of sanitation solutions in diverse contexts.
"I got questions from many people, including housewives, who were demanding sanitation solutions in overcrowded homes, such as the problem of having a common wall between the kitchen and the toilet," Agarwal said.
Agarwal also conducted a survey at the start of his public sanitation mission: "What is more important – TV or toilet?"
"During the survey, I came to know that most of the working class people have TV but no toilet in their house, which is a basic human need. There I came up with the idea of ​​creating basic essential products, which were mainly toilets," said Agarwal of his discovery, which began in 2014 with the Swachh Bharat Abhiyan, India's flagship campaign on universal sanitation coverage.
The first urinal with discarded water began a daring career in sanitation innovation that eventually evolved into making toilets with recycled plastics to reduce carbon emissions. Agarwal's organization is today called BASIC SHIT (Sanitation and Sanitation Innovative Technology).
His career choice of toilet making, while the rest of his peers were busy choosing lucrative jobs in more socially accepted fields, didn't immediately win over his family, but he did it after his idea gained global recognition in Seoul. started taking it seriously. However, one of his companions had to leave the studio as his fiancé's family could not accept it.
"Relatives ask, 'What are you doing?!' People in our team were finding it difficult to get married," said Agarwal.
Today BASIC SHIT consists of 6-7 people: architects, designers and scientists, and the organization network with other NGOs. Among other things, it also provides sanitation solutions for large public events such as film and music festivals.
innovating public toilets
As a student, Agarwal first built coin-operated toilets using iron and steel constructions and operated three units in New Delhi.
"It was doing well. Each toilet was earning around 600-750 rupees ($8-10) every day and it had become self-sustaining," said Agarwal, adding that each toilet also had recycled water and a planter. But when When the team thought of increasing it in the capital, challenges arose.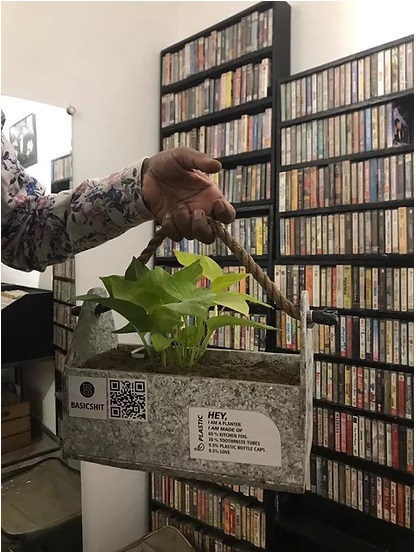 "Soon people started using stones and folded paper instead of coins," Agarwal said, adding that when he first thought the idea would not work.
People were also closing in. "You're trying to solve problems but you're creating more problems," he said.
It was then that the team started looking for better solutions.
Meanwhile, the urinals the company has installed outside AIIMS are no longer there and the organization is in the process of installing its new public toilets made of recycled plastic in South Delhi.
Banla Dinesh, a lawyer and partner at Basic SHIT, who is in the process of filing a patent for the new toilet design, said the team is also innovating for new designs for rural areas and urinals for highways and markets.
He said that India needs continuous innovation in sanitation and toilet technology and design due to rapid urbanization and diversity of contexts.
"If you get a chance, look under the metro in front of the AIIMS metro, hundreds of people sleep there, they are usually relatives of the patients. There are no toilets there," Dinesh said.
Agarwal said that today his team also works on disaster technology and has the capability to install toilets in five days in the wake of calamities like earthquake.
Farmers' protest and lockdown
When India's peasant protest was taking place on the outskirts of the capital, a crowd had gathered on the border of New Delhi.
Tents were pitched, temporary accommodations built, kitchens set up, but public toilets remained an issue and that's when basic shit came.
The initiative garnered Indian media attention and encouraged Agarwal and team to set up a crowdfunding campaign that raised 1.8 million ($23,750).
Meanwhile, the team had already started working with recycled plastics and when the use of public toilets stopped during the lockdown, BASIC SHIT started designing and producing alternative products from the same material.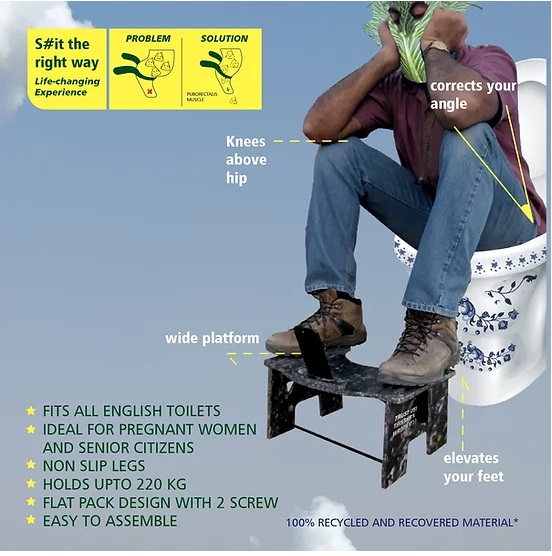 "We have made a squat stool that Indians can use with a western toilet. This feces weighing 5 kg (11 lb) blocks 30 kg (66 lb) of carbon emissions into the environment," said 29-year-old Sahaj Umang Singh, a colleague of Agarwal.
Other products they make from recycled plastics include laptop stands, planters, and public cigarette cans. The organization plans to put cigarette cans in public places and recycle plastics such as cigarette butts into fabrication materials.
"Every kilogram of recycled plastic we use saves 8 kilograms of carbon emissions from the environment," Singh said. The group has built a new dry toilet that uses sawdust instead of water. Dry toilets are not a new concept in India, but because garbage disposal was always a problem, they are not encouraged.
Basic SHIT's new sawdust toilets aim to solve the problem of water scarcity as well as waste disposal by onsite composting.
The team, however, is hoping for more ease of business, saying that the Indian government should remove taxes on recycled plastic to make it a more affordable material.
"There was a time when there was 18 per cent GST" [Goods and Service Tax] On sanitary napkins in India. Then a public support campaign helped make it tax-free for Indian women. Today we have to pay 18 per cent GST on recycled plastic.
Dinesh said the team is trying to simplify their toilet technology so that it can be made available to people where it is needed the most.
,